Summer Camping Recipes & Meal Prep Hacks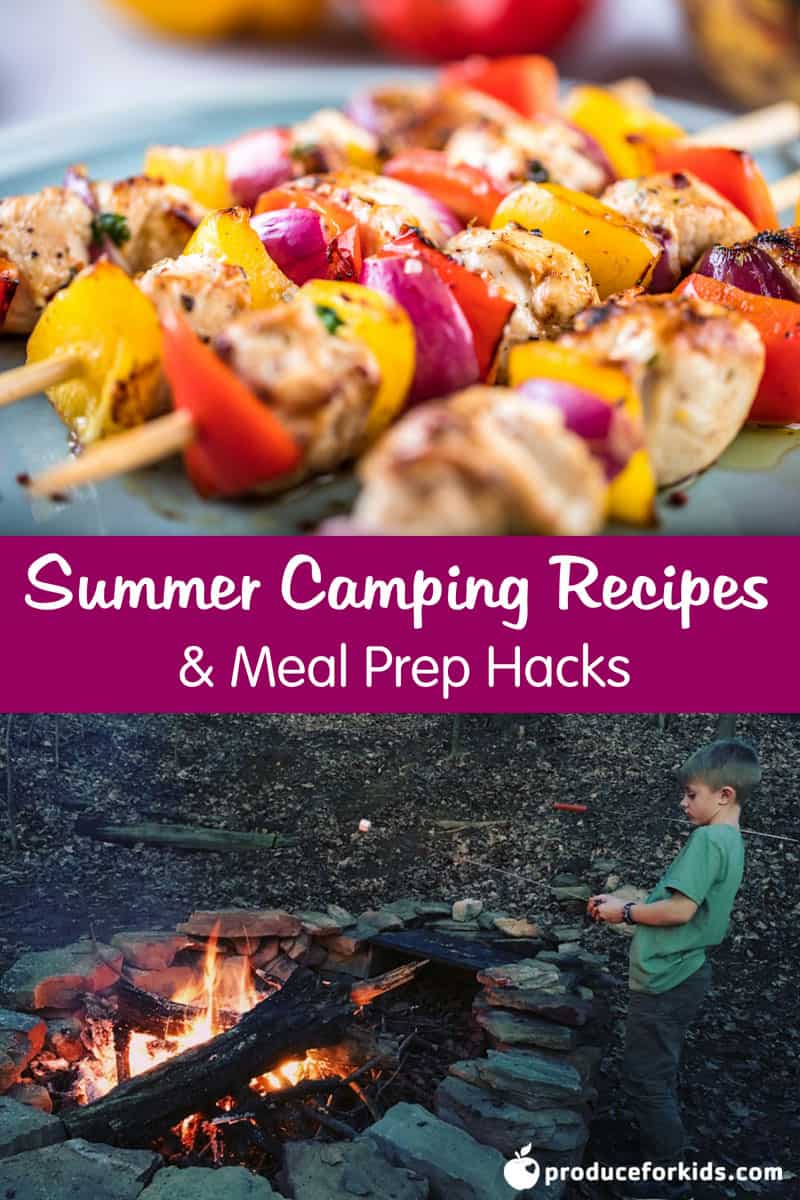 Our little family absolutely loves to go camping. I was just sharing about our most recent weekend in the wild when a friend commented that there was absolutely NO WAY his family would survive a weekend of camping.
He added, "who wants to eat hot dogs all weekend?"
Camp cooking can be so much more than cereal, PB&J's and campfire hot dogs. I promise.
First, let me address that we are a family of car campers. Car Campers, say what? No, we don't sleep in our cars, but we have a car and our all our supplies close by.
If you are looking for ultralight backpacking tips this is not the place. I am assuming you will have easy access to a car, but rest assured you won't need to fill it with kitchen supplies to have a great weekend menu.
How to Upgrade Your Meals
Build a foundation.
Like most things in life, you need a good foundation to get started camp cooking like a pro. A few affordable items can go a long way and last a long time.
Your portable kitchen requires a sturdy cutting board, chef's knife, a cooking vessel (like this Dutch oven), basic grill utensils, pot holders, metal reusable skewers, and aluminum foil.
Don't forget the cooking grate for cooking over the fire–most campgrounds will have one waiting for you. If you won't have a campfire, you will need access to a camp stove or grill.
With this combination, your family will be well on their way to recreating the camp version of all of the meals your family loves and maybe explore some new ones!
Have a plan.
While an expert camp cook might like the excitement cooking off the cuff like they are on the latest episode of the Chopped, I suggest putting pen to paper and planning your entire weekend menu and shopping list.
If you will be sharing cooking responsibilities with another family, rather than combining all meals, take turns planning and providing everything that is needed for a communal dinner each night.
Having one person take the lead for the entire meal eliminates the, "oops…we forgot salsa" and the "wow, we have way too much protein but no veggies." I have found from experience that skipping this planning step will leave you with lackluster meals and a tendency to overpack and waste food.
Prep Ahead of Time.
Another benefit of prepping is that you will be able to prep and chop things before you pack your cooler. If onions are anywhere on your menu prep them in the comforts of your own kitchen. It is so much easier to add a sprinkle of diced onion to an omelet, or foil packet of potatoes when the chopping has already been done for you.
Things like pita pockets or whole wheat tortillas will pack and hold up much better than a traditional loaf of bread. And don't forget the spices! You can pre-portion a few of your favorites into upcycled tic-tac containers or pick up one of these multi-spice containers.
Favorite Camping Recipes
Breakfast
We start our mornings slow and simple. We used to go all-in on an egg and bacon campfire spread but we realized that it was holding us back from getting on with our day.
Now we enjoy plain Greek yogurt topped with homemade granola and fresh fruit. I love making homemade granola, it's so easy and the possibilities are endless.
My boys opt for their granola with milk. We ditch the milk carton and pack the milk in a much smaller cooler-friendly reusable Nalgene container.
If you don't have a favorite homemade granola here is a perfect base recipe. You can add or change up to your fruit and seed or nut preference.
You can also make these apple pie snack bars for those on-the-go mornings or for a trailside treat.
Lunch
You're back from your morning hike or swim in the lake and you need a quick refuel option that keeps you from spending the best part of the day cooking. Enter campfire avocado toast!
Use your campfire grate to toast bread and spread on a ripe avocado. Top with a few sliced cherry tomatoes, and that handy salt and pepper you remembered! Here are 12 more ways to inspire your perfect avocado toast.
Dinner
I Love kabobs! The possibilities are endless and clean-up is next to nothing. Check out these 15 recipes. You will be sure to find a hit from this list!
Two words: Campfire Pizza. Yes, you can use the Dutch oven for this or just wrap up pizza-topped pita bread into foil packets for this delicious treat.
Don't forget the sides!
Grilled sweet corn is everything. Check out this campfire sweet corn 4 ways!
Foil pouches are handy for cooking all sorts of vegetables over a campfire.
We also love these easy zucchini packets.
Happy Camping!