How To Make An Easy Jack o' Lantern Vegetable Tray
This easy Easy Jack o' Lantern Veggie Tray is ready in just minutes and is a healthy, yet delicious Halloween snack idea.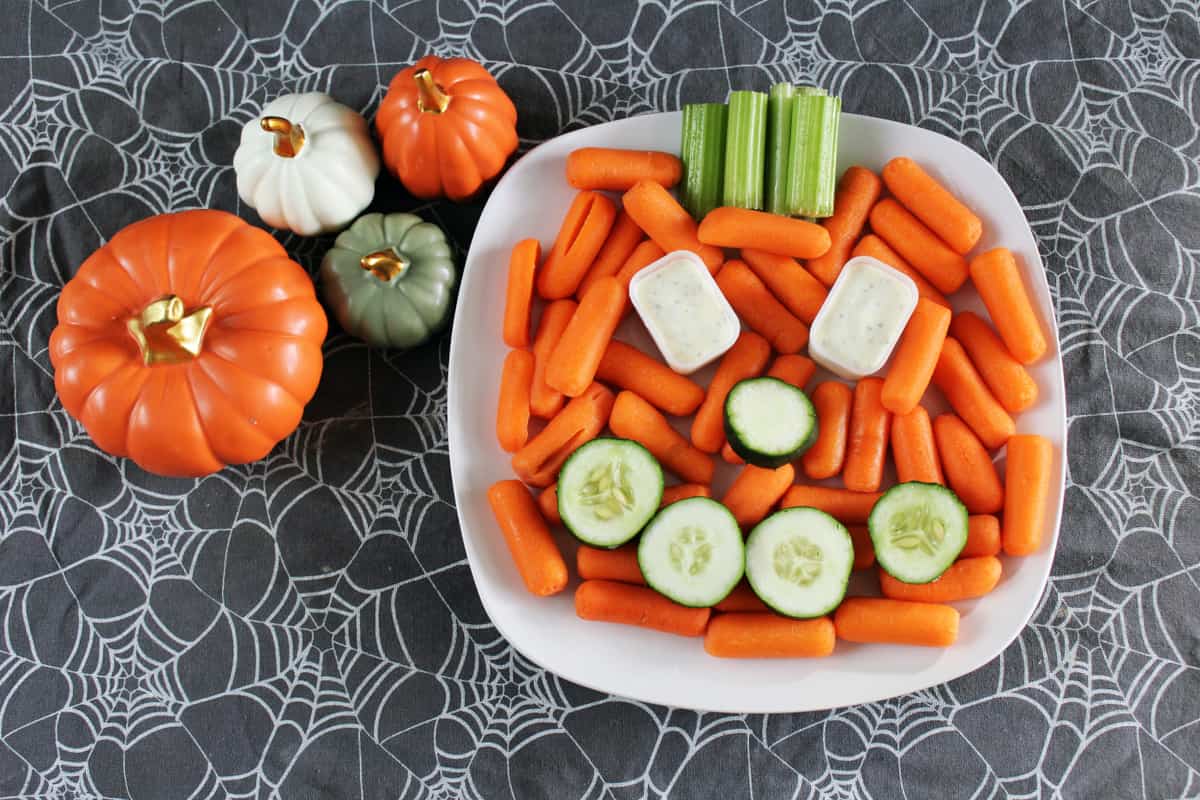 It doesn't get much easier than this guys. Planning a Halloween party and serving Halloween-themed snacks doesn't have to be hard! This simple Jack o' Lantern Veggie Tray is so easy to assemble and filled with healthy vegetables in hopes to limit the amount of candy consumption for the evening ;).
In fact, this Halloween Vegetable Tray is so easy to make, the kids can do it! It's ready in less than 5 minutes and all you have to do is arrange the veggies on a platter! We like to use baby carrots, as they don't require any prep at all. If you have a little one helping you in the kitchen, you will want to slice the cucumbers and celery. Safety first!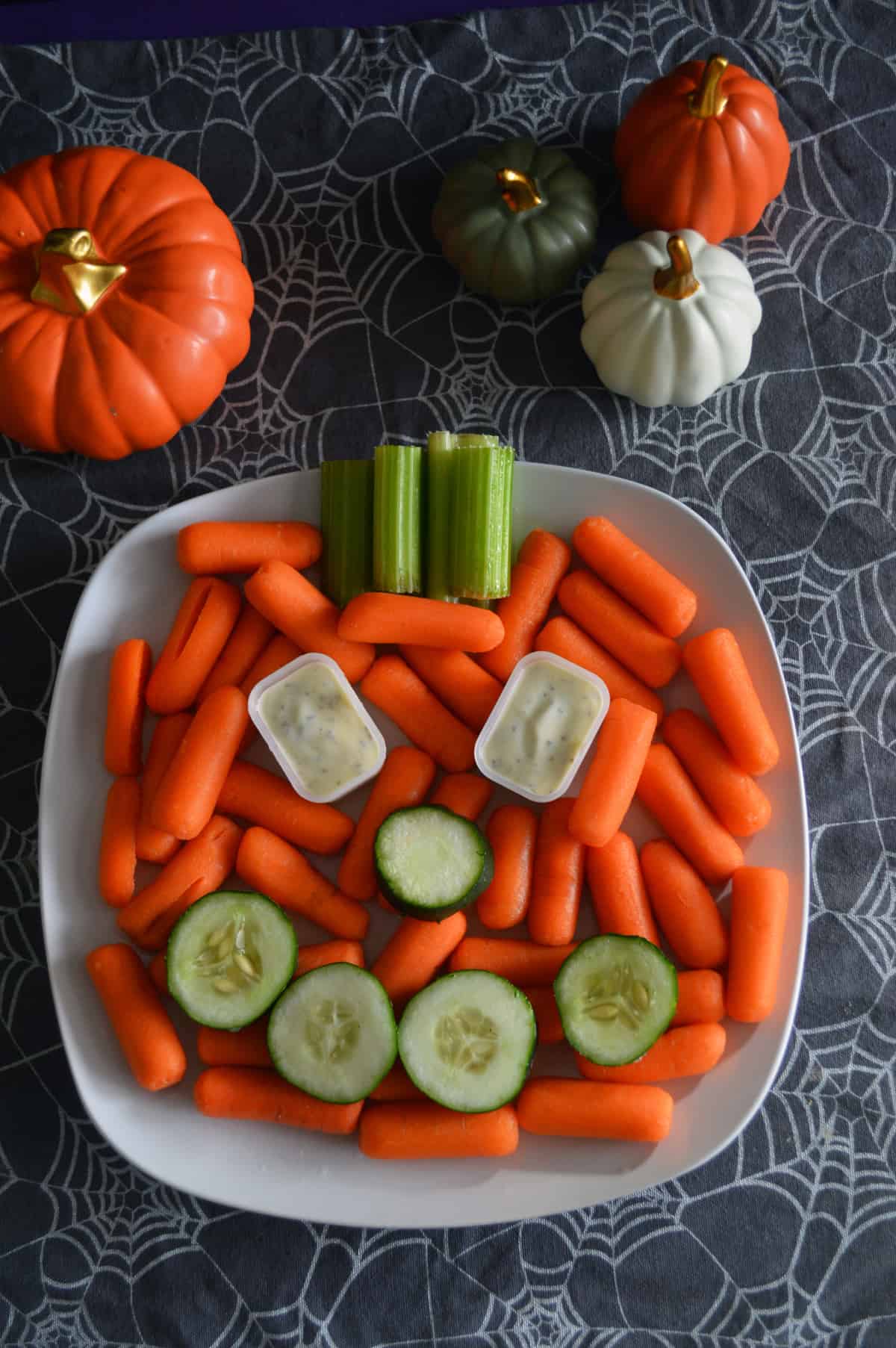 To make a Jack o' Lantern Veggie Tray you will need green and orange veggies! We used:
Simple substitutions or additions when making a Halloween Veggie Tray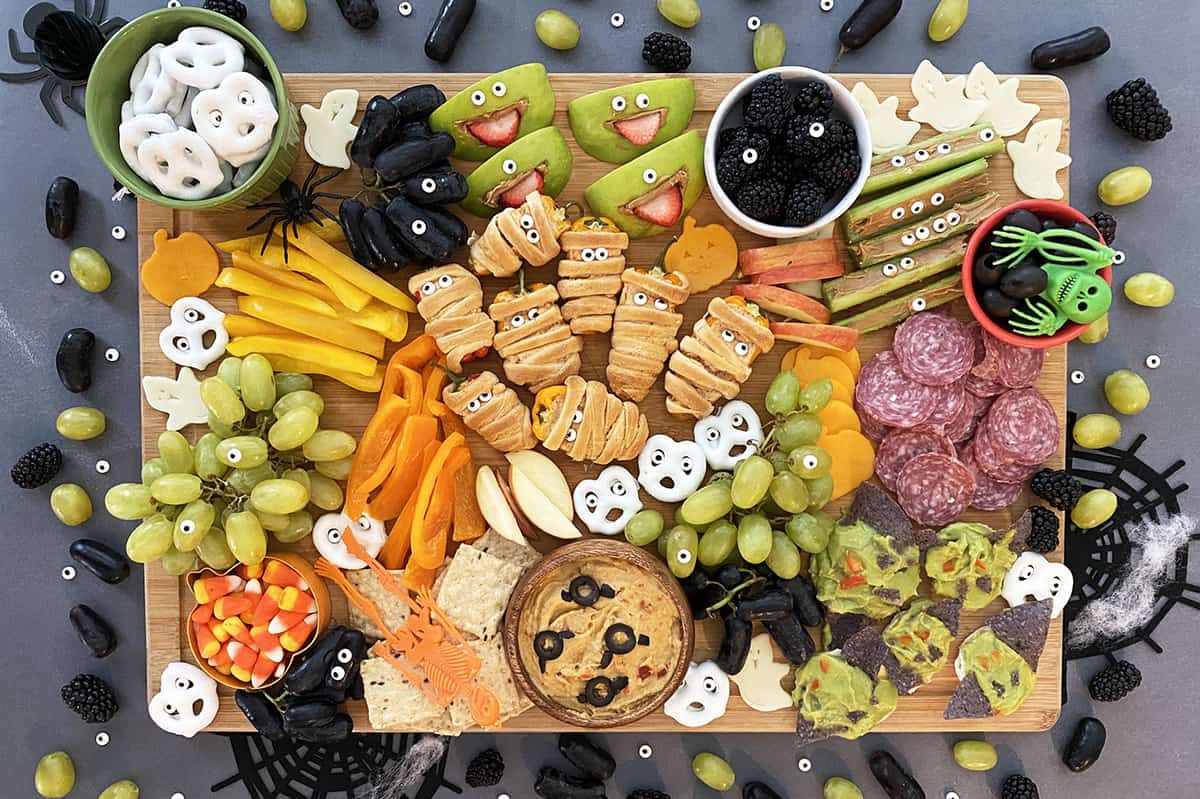 Be sure to check out some of our other favorite Halloween snacks to add to your Halloween party
And if you are feeling a little creative this Halloween, check out these carving ideas!
Jack o' Lantern Veggie Tray
This easy Jack o'Lantern Veggie Platter is a healthy Halloween snack idea that is ready in just minutes.
Ingredients
16 ounces baby carrots
1 stalk celery cut into small strips
1/2 cucumber sliced
1/4 cup lowfat Ranch dip
Instructions
Place carrots on round plate. Add celery to the top for the stem. Create two holes to place small containers of Ranch dip. Layer cucumber slices on top for nose and mouth.
Nutrition
Calories: 58kcalCarbohydrates: 12gProtein: 1gCholesterol: 3mgSodium: 149mgFiber: 3gSugar: 6g
What is one of your favorite healthy Halloween snacks?