How To Make The Best Caramel Apple Trifles
This easy to make dessert is ready in under 30 minutes and has all your favorite fall flavors in one bite! Cinnamon, caramel, apples, a fluffy mousse and then a bit of crunch thanks to the granola make these Caramel Apple Trifles a must try. This partnership with Superfresh Growers has donated 9,150 meals to those in need. While the post is sponsored by Superfresh Growers, our love for giving back to the community and a yummy fall dessert is our own!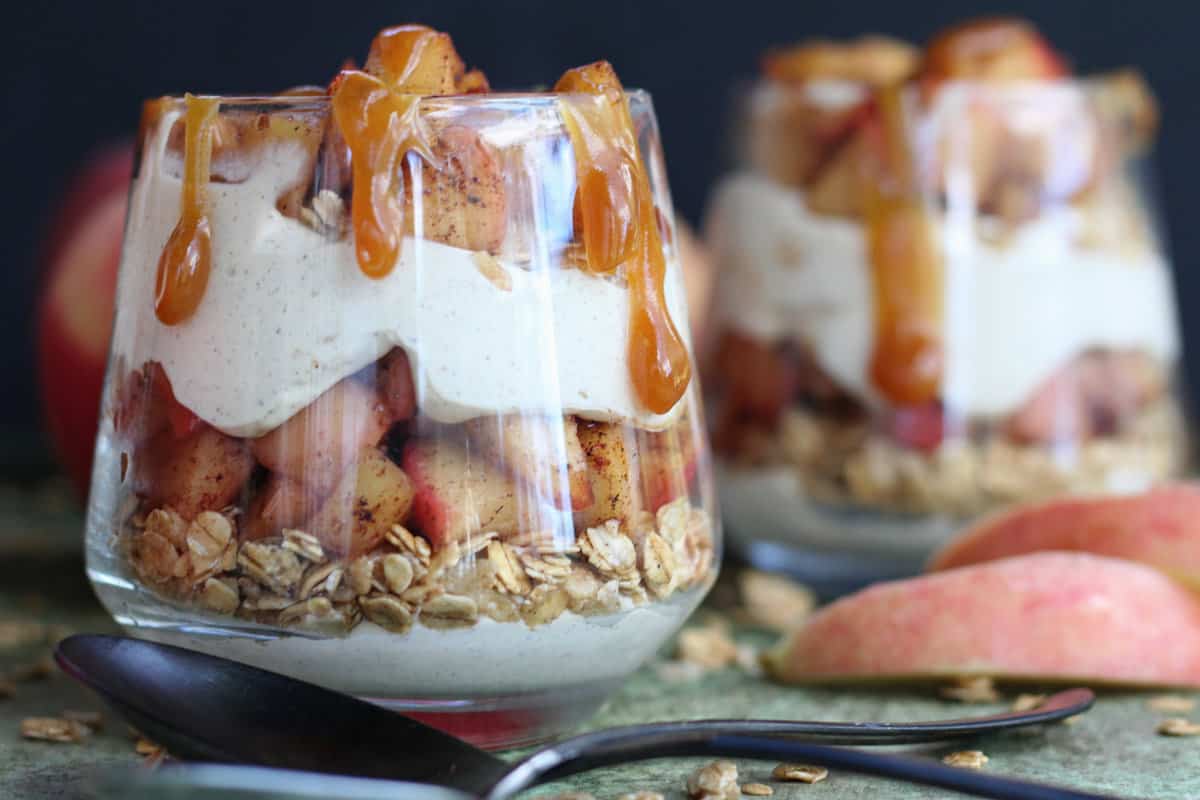 Caramel. Apple. Trifle. I mean, do I really need to say anything else? Just look at them. We are layering a simply homemade cinnamon vanilla mousse, with granola and diced apples…oh and a caramel drizzle. YES PLEASE. I wish you could taste them through the computer/phone screen, because, trust me, you want to. But, you will be glad to know that they are super easy to make, that means you can be tasting them at home soon! Making these yummy trifles the perfect addition to all your fall and holiday menus. Who doesn't like a healthy dessert that looks gorgeous and is actually easy to make?!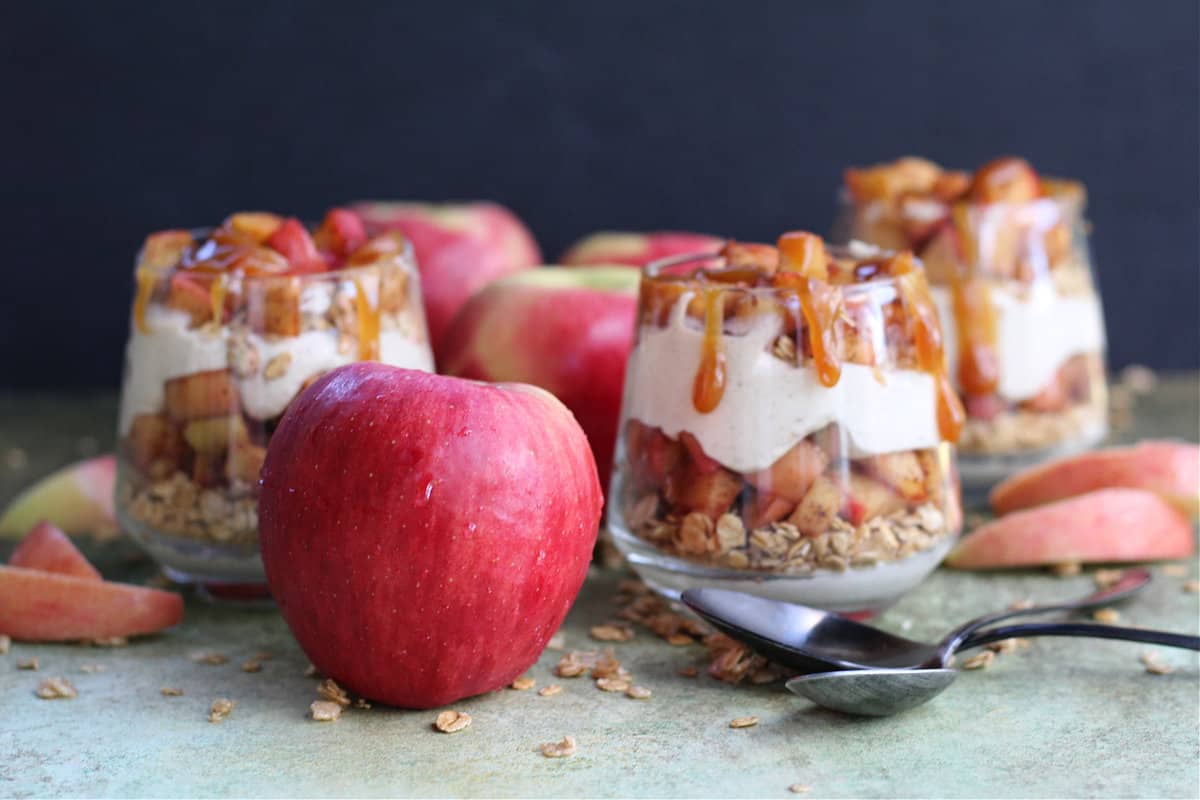 I used Autumn Glory Apples to make my trifles because they are naturally sweet and crisp with hints of cinnamon and caramel in its tasting notes. And since my trifles are all about caramel and cinnamon, the Autumn Glory Apple was the perfect choice. Autumn Glory Apples remind me of fresh fall flavors in one simple bite.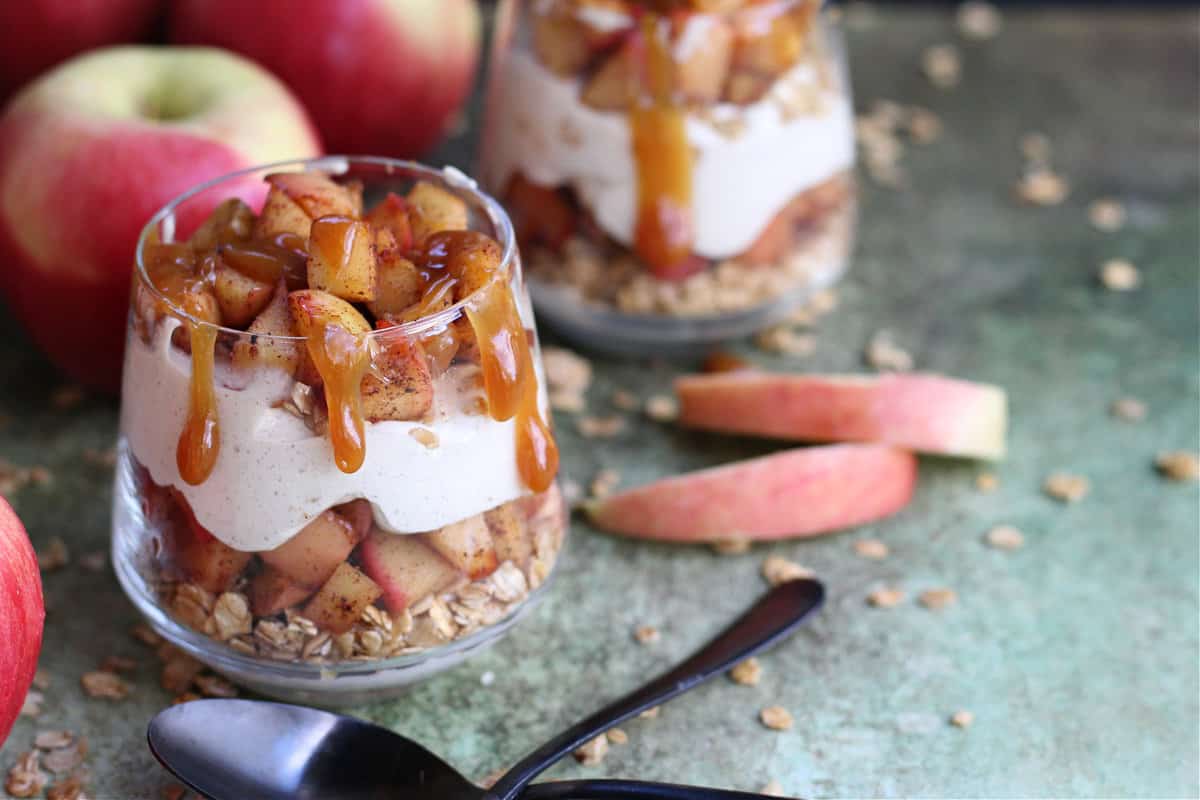 These apples are perfect for fall recipes, like our Caramel Apple Trifles, because they already have the flavors of fall built right into them. 
This easy Caramel Apple Trifle is a treat that your friends and family are sure to love. I know mine does 😉 Sweet apple flavor with hints of cinnamon and caramel in the fruit, combined with caramel sauce, a fluffy mousse and a crunchy layer of granola to intrigue the senses.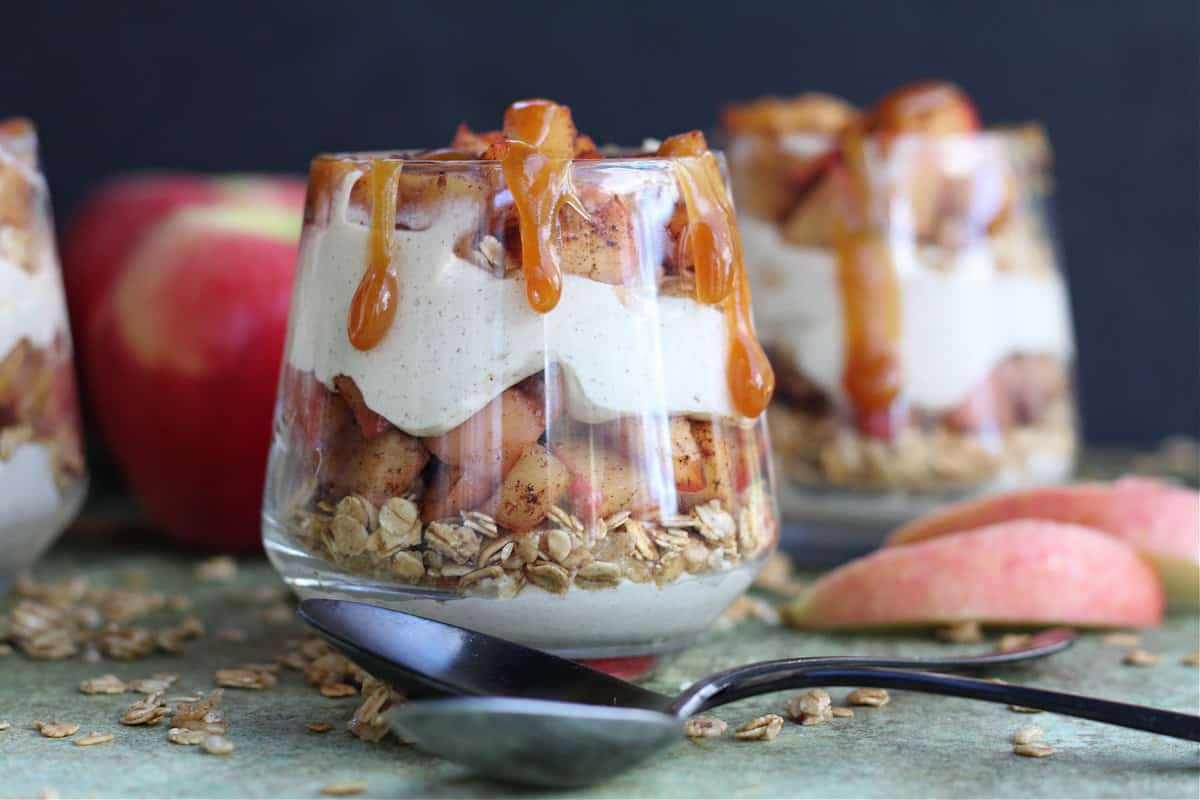 What is a trifle?
Before we get into the specifics of how to make this fabulous fall dessert you might be wondering what a trifle is in the first place. A trifle is simply a layered dessert. They originated in England and consisted of a spongy cake that had been soaked in liquor, fresh or jellied fruit, custard, and whipped cream that was layered on top of each other in a single dish.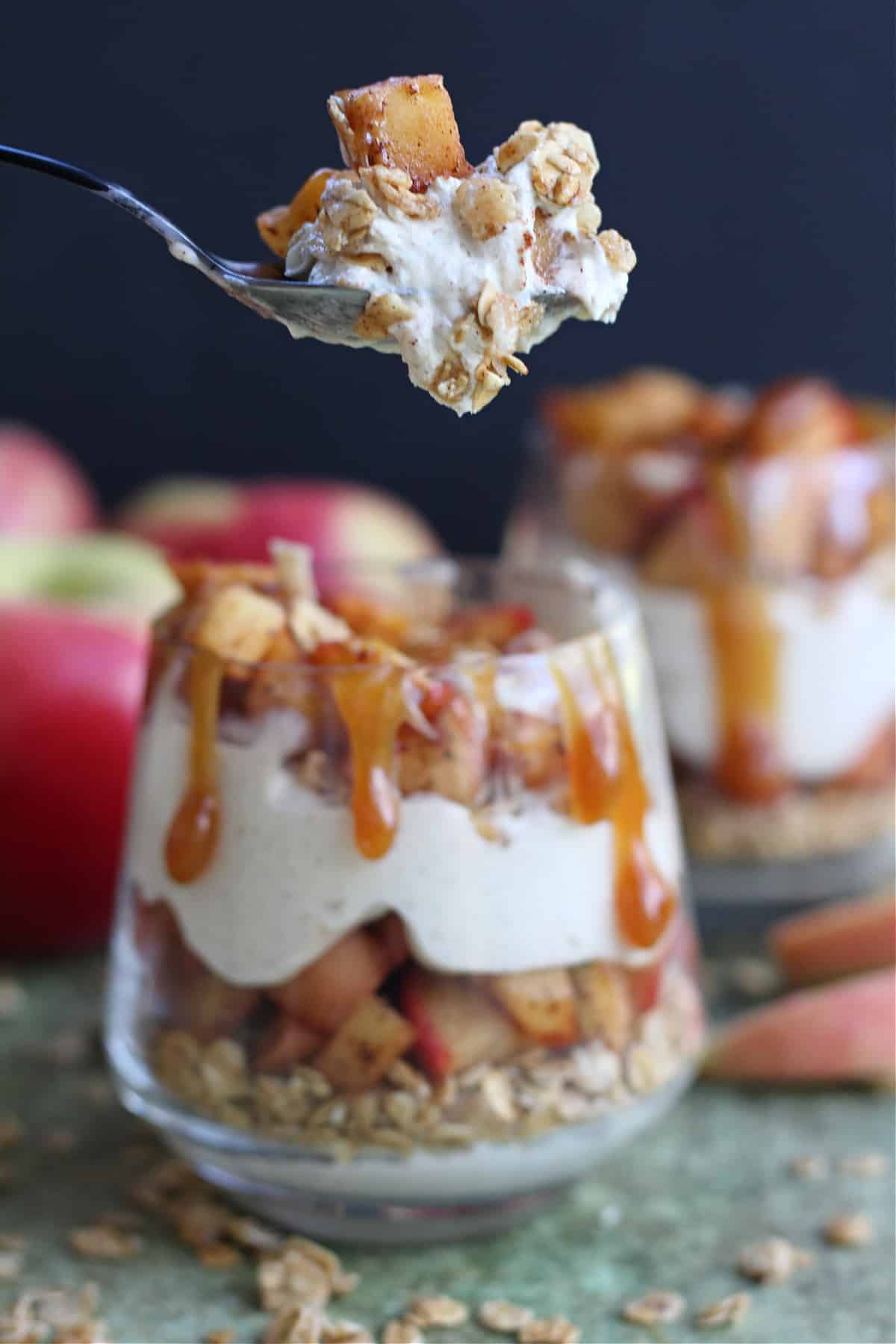 Why make a Caramel Apple Trifle
A caramel apple trifle is a delicious and easy-to-make no-bake dessert with all of your favorite flavors of fall built right into it. Cinnamon, caramel, apples, what's not to love? Especially when you consider the creamy mousse and crunch!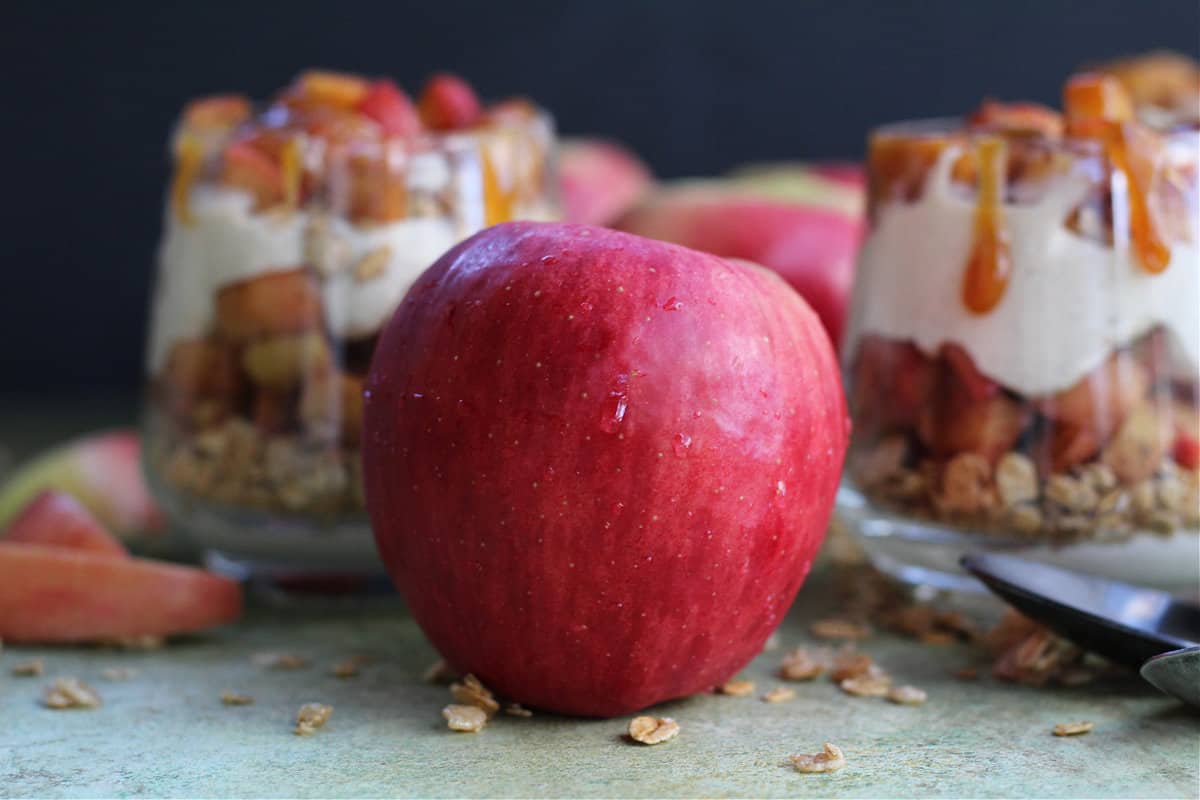 How to Make Caramel Apple Trifle
Apples
The star of this trifle is the apples, of course! I added a little brown sugar, cinnamon and lemon juice to diced apples and cooked it up for about 10 minutes. Easy peasy!
Caramel Sauce
The next ingredient that you will need for your caramel apple trifle is caramel sauce. You can make it from scratch, but I just bought the light version in the produce section at the grocery store 😉
Cinnamon Vanilla Mousse
The great thing about this easy mousse is that it plays up the flavors that are already present in the Autumn Glory apple. Cinnamon vanilla mousse is delicious and easy to make. You can use it for this recipe and many more, you could even use it as a decadent topping for your coffee.
To make your cinnamon vanilla mousse you will need skim milk, instant vanilla pudding, cinnamon, and whipped topping.
Granola
The granola adds a bit of crunch and a beautiful layer in your trifle. We used the low fat variety.
Can you make your trifle in advance?
Yes, you can make your caramel apple trifle ahead of time if you know that you are going to be busy the day of serving. You should not make this trifle more than two days ahead of serving and one day would be best if you want to retain as much crunch in the granola as possible. 
Another option would be to have the components of this dessert made in advance, and then put it together an hour or two before you plan to serve it. Layering the trifles only takes a minute or two if everything else is ready.
How do I store caramel apple trifles?
Whether you are making the trifle in advance or you have some leftover it needs to be stored in the refrigerator. Wrap the triple tightly with plastic wrap and you should be able to enjoy it for up to three days. Keep in mind that the longer you store it the mushier it will become, however, the flavors will still be there, and it is still safe to eat.
This caramel apple trifle can be made in single-serving dessert cups or if you have a large trifle bowl you can make a large trifle that all of your guests can share. This dessert is perfect for fall celebrations and it would even look amazing on your Thanksgiving and holiday dessert table. 
This caramel apple trifle is a simple dessert that really stands out and brings together all of your favorite fall flavors in one dish. Whether it's on your holiday table, or just a weeknight treat everyone is sure to enjoy it. My daughter actually had one for breakfast the other day 🙂
Ok, let's make some fall trifles shall we?
Caramel Apple Trifles
Ready in under 30 minutes, these caramel apple trifles are the perfect addition to all your holiday menus. All your favorite fall flavors come together in one bite of this yummy trifle.
Ingredients
3 Autumn Glory Apples diced
2 tbsp light brown sugar
1 tsp ground cinnamon
Juice from 1/2 lemon
4 tbsp low fat granola
4 tsp light caramel sauce
Cinnamon Vanilla Mousse
1 oz sugar free instant vanilla pudding mix the smaller box
8 oz whipped topping we used the lite variety
1½ cups skim milk
1 tsp cinnamon
Instructions
In a medium bowl, combine sliced apples, brown sugar, lemon juice, cinnamon, and a pinch of salt. Gently stir to coat apples.

Cook apples for about 10 minutes, or until at preferred softness. Allow to cool before layering the trifle.
Cinnamon Vanilla Mousse
Mix the milk , cinnamon pudding mix together either by hand or with mixer.

Once mixed well, add the whipped topping.

Mix well. Refrigerate until ready for use, it will thicken up while resting.
Assemble Caramel Apple Trifles
Layer the ingredients into your favorite glasses.

Start with the cinnamon vanilla mousse. Then sprinkle in granola. Add a layer of the diced apples. Repeat until your serving glasses are full. Top with a little light caramel sauce.
Nutrition
Calories: 296kcalCarbohydrates: 60gProtein: 6gFat: 5gSaturated Fat: 2gPolyunsaturated Fat: 1gMonounsaturated Fat: 1gCholesterol: 12mgSodium: 397mgPotassium: 412mgFiber: 5gSugar: 36gVitamin A: 363IUVitamin C: 6mgCalcium: 214mgIron: 1mg