Episode 69: Tips for Better Sleep for Your Family
This episode of the Healthy Family Project podcast is all about how to get better sleep. We're joined by Jackie Vega, author of The Wellness Solution and host of The Busy Moms Kitchen Podcast. Jackie shares tips the whole family can take advantage of to get better sleep including which foods to eat more, supplements to try, and how to adjust nighttime routines.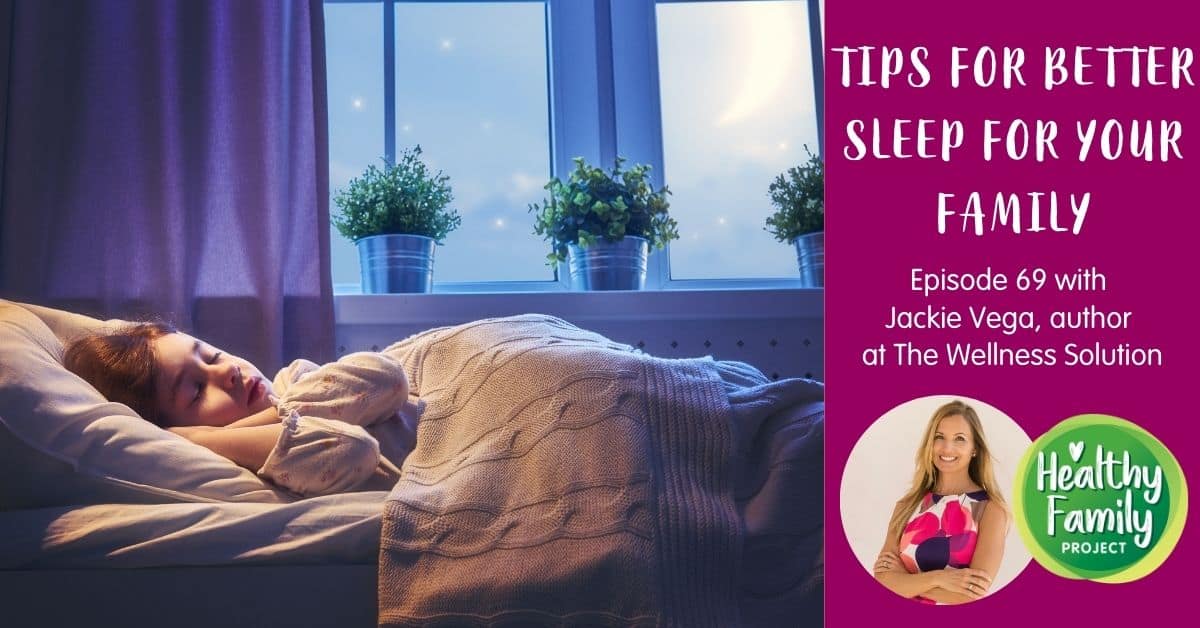 Are you getting enough sleep? Lack of sleep can cause can affect our hormones, ultimately affecting our mood, energy levels and productivity. As parents, we can immediately tell when our kids are not getting enough sleep. Jackie Vega joined us to share lots of tips and insights to help the whole family get better quality sleep.
There's lots you can do to improve your sleep quality from supplements and vitamin B rich foods to switching up nighttime routines and avoiding certain foods before bedtime.
Listen to the episode
What We Cover:
Want to skip straight to a hot topic? See timestamps below. But of course, we recommend listening all the way through to get all the great tips and tricks!
4:08 Welcome back, Jackie!
7:20 Why are teens always so tired?
11:50 How lack of sleep affects hormones
12:50 Change nighttime routines
16:15 Foods to keep on hand for energy & for bedtime
23:07 How does Magnesium help with sleep?
25ish Supplements that help with sleep
31:20 Foods high in B vitamins
35:40 Benefits of drinking tea before bed
39:40 Bedtime snacks
About Our Guest, Jackie Vega
Jackie is a registered dietitian, ACE-certified personal trainer, wife, and mom of two. She is the founder of the Wellness Solution where she offers guidance to her clients on all things health and fitness.
Jackie recently launched the Busy Moms Kitchen podcast where she invites you into her kitchen to listen in on conversations about life as busy moms, reaching health and fitness goals and other things that only you and your girlfriends will understand.
Relevant Links
Listen to Jackie's Podcast – The Busy Mom's Kitchen
Other Podcast Episodes to Check Out:
Healthy Family Project Facebook Group
Join our Healthy Family Project Facebook group! This group will serve as a safe space for parents and caregivers to talk all about raising a healthy family – from dealing with a picky eater and tips to get more fruits and veggies onto plates to exercising as a family and mental health. We welcome all of you to join in!
Listener Survey!
Thank you so much for supporting the Healthy Family Project Podcast! We'd love it if you could take 5 minutes to let us know how we can bring you the best possible content for future episodes. Take the survey here.
---
Healthy Family Project Podcast
Conversations covering hot topics in the world of health, food and family with a dose of fun. Helping families ease their way into a new fresh and healthy world.
Be on the lookout for new bi-weekly episodes and don't forget to subscribe on Apple Podcasts, Google Podcasts, Spotify or your favorite podcasting site. If you like an episode, make sure to leave a rating and comment.
If you are interested in being a guest on the Healthy Family Project podcast, contact amanda@healthyfamilyproject.com with your topic idea for consideration.