Episode 17: New Year's Resolutions for Families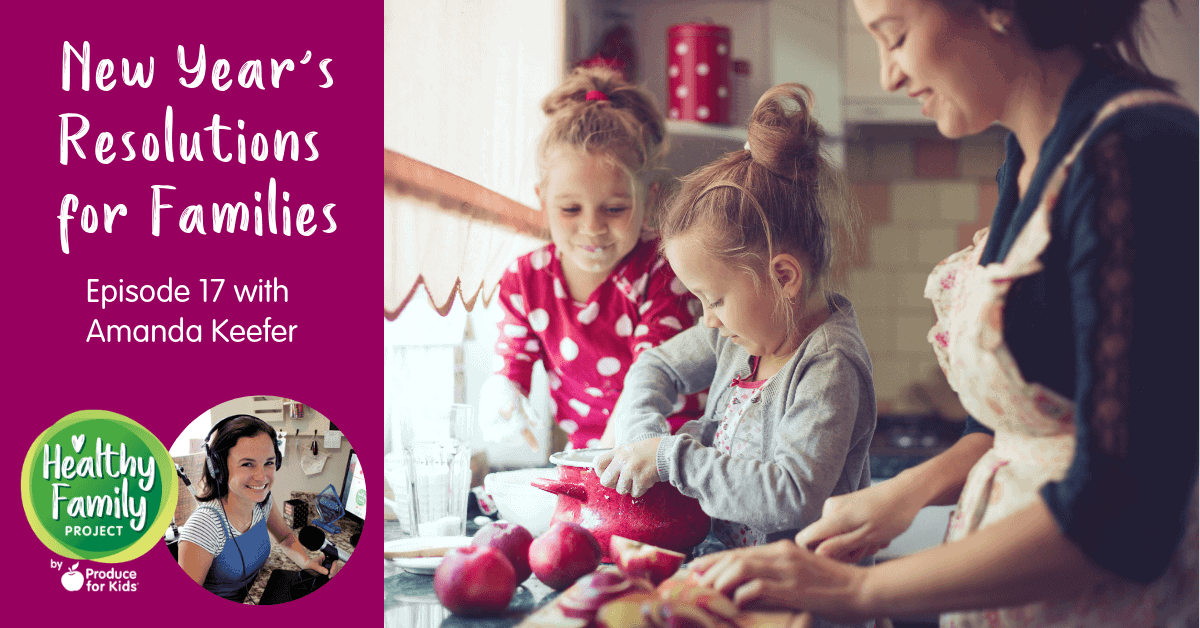 In this episode of Healthy Family Project, we reached out to all of this year's guests to find out what their healthy New Year's resolutions are and asked them to share tips for other families looking to embrace a healthier lifestyle in the new year.
Hear from past guests including:
Listener Survey!
Thank you so much for supporting the Healthy Family Project Podcast! We'd love it if you could take 5 minutes to let us know how we can bring you the best possible content for future episodes. Take the survey here.
Healthy Recipes & Tips in Your Inbox
Sign up for the Healthy Family Project e-newsletter to receive healthy recipe inspiration, our latest blog posts and more directly to your inbox each week.
Healthy Family Project Facebook Group
Join our Healthy Family Project Facebook group! This group will serve as a safe space for parents and caregivers to talk all about raising a healthy family – from dealing with a picky eater and tips to get more fruits and veggies onto plates to exercising as a family and mental health. We welcome all of you to join in!
---
Want to skip straight to a hot topic? See time stamps below. But of course, we recommend listening all the way through!
1:29 Amanda Keefer
4:06 Dr. Stephanie Smith
5:51 Cory Warren
9:25 Anne L'Heureux
12:04 Kiran Dodeja Smith
14:12 Brenda Thompson
17:51 George Szczepanski
20:33 Amy Roskelley
---
Relevant Links:
---
Healthy Family Project Podcast
Conversations covering hot topics in the world of health, food and family with a dose of fun. Helping families ease their way into a new fresh and healthy world.
Be on the lookout for new bi-weekly episodes and don't forget to subscribe on Apple Podcasts, Google Podcasts, Spotify or your favorite podcasting site. If you like an episode, make sure to leave a rating and comment.
If you are interested in being a guest on the Healthy Family Project podcast, contact amanda@healthyfamilyproject.com with your topic idea for consideration.
Transcript for Episode 17
This transcript was produced by Otter.Ai. Please forgive any misspellings and grammatical errors.
00:13
Welcome to the healthy family project by produce for kids covering the hot topics in the world of health,
food and family with a dose of fun. Wow, we are really heading into 2019. So crazy. So I thought I'd take
today's episode to share new year's resolutions from some of our past guests on the show was coming
up towards the end of the year, everyone is super busy. So I figured it would be really fun to just kind of
reach out to everyone and compile their New Year's resolutions if they had made them how they intend
on keeping them. And then also some easy ideas that are resolutions, I guess, that you can do with your
family and ways that you can plan on keeping those because I know that's the hard part. I love to start
fresh and the New Year is always a great time to reflect on your year and what you'd like to accomplish
or do differently change or keep in place for the upcoming year. Any opportunity to start fresh is
something I definitely am totally and do and, and jump on. So before I get started on these resolution
ideas from our past guests, and I'll identify each of them and, and kind of give you some background on
each of them. As we roll through this, I wanted to share with you my resolutions and how I intend to keep
them. So I've read, I guess I guess just a backtrack a little bit on on how I intend to keep them, I've read
that you should keep your resolutions simple, realistic and attainable. And kind of like a business plan.
It's also it's also a good idea that you track your success. So my thought is, you know, once a month, just
planning to take 10 minutes to reflect back and just kind of check in and and see how I'm doing so
personally just for myself as an individual, I'm going to work on minimal minimalizing my world. So
whether that be downsizing on the 100 or more pens that are currently stashed in my kitchen junk
drawer, or the gazillion dresses that I don't wear taking up space in my closet, I really just want to
gradually not all at once, gradually cut through all of that noise, I guess is how I'm thinking about it, cut
through all that noise and really be able to see what I truly have. You know, and just get get rid of some
of that stuff. So as a parent, this is a tough one. I have a middle schooler. So I'll just leave that right
there. And a very independent eight year old. And while I'm not a confrontational person at heart, I've
found myself in the midst of I guess, real combat is how I see it just based on my non confrontational self
real combat over the past couple of months in our house. And it makes me really sad. So I don't like to
yell and my yelling meter currently is at an all time high. And so while I'd love to say My resolution is to
yell less, I don't think that that will solve the problem because there are issues that need to be
addressed. So I guess my resolution is to find ways to better deal with and work through the bumps and
humps of parenting and actually achieve success. I don't know exactly what those ways or tactics are at
the moment. But I am on the quest to tailor my current style. So if you do have ideas, you can tweet me
or email me I am Welcome to Tips, especially on navigating those middle school years. If there's a book
that you're reading, I'll take all the help I can get. So all right, well then let's get started. Let's roll through
some of these resolutions from our past guests and get some great ideas. Alright, first up we have Dr.
Stephanie Smith. She is our psychologist reference here at produce for kids. She writes a lot for us on
our blog, she's our Ask the Expert or ask the psychologist series where we asked her different questions
and she gives us her thoughts. She is on Episode Eight of the podcast and she talks about managing
back to school anxiety and also Episode Three on managing screentime. So two really great episodes if
you want to listen back to either of those. So her resolution is trying to walk more. So her goal is like five
miles per day, which I don't know what she's currently doing. But if it that seems like a lot if you're going
from zero, but I do think getting out and walking you know that's that's really great. No one's asking you
to run a marathon but if you can get out and Even if you're listening to a podcast while you're taking a
taking a stroll, it's something that I think we could all do,
05:06
you know, and not even realize that we're, we're conquering that resolution. So Dr. Stephanie says she
likes to try to check back with resolutions in March or April. So she says actually, also that she would
consider maybe doing an episode on the healthy family project in March or April, on checking back in
with those resolutions, and, and maybe if you've fallen off the wagon, some, you know, some ways to get
back on and making sure your goals are achievable. So yes, Dr. Stephanie, we want to have you, March
or April, let's definitely chat and see how we can keep ourselves on track. Next up, we have Cory from
Lean Green Dad, we talked to Cory on episode four, about easing into a plant based diet. He is the
owner of Lean Green dad.com. And he also has his own podcast selling green dad. So Corys resolution
for 2019 is to teach my kids how to be entrepreneurs. So he is going to help them start a mini business
and talk to them about money and how to start to manage it. So specifically with his oldest his 10 year
old daughter, who is super smart. And that is an amazing idea doing something to prepare those kiddos
for when they get out on their own. I definitely don't think you know, there's enough information out there
in general for tweens and teens and college students on what it truly is to manage, you know your world
financially. So good stuff there. And then how he intends on keeping it. So he says rather than a short
term resolution, I'm going to say that I will weave this into my everyday parenting and try to make it
something I do regularly for the rest of my life. So it's kind of like a life resolution. So we'll check in with
Cory, I love that idea to see, you know what many business they come up with, that will be exciting. And
then what he suggests as an easy resolution that families can make. He says, you know, something easy
can be drink more water, just check in with each other every day. Hey, how many cups of water do you
doing today, take family walks. Do the best you can in the morning. And for lunch, eat lots of fresh fruits
and veggies, of course, we love to hear that. And when it comes to dinner, give yourself a break. He says
you know, eat what you want. And that when when you find out after a while that your dinners will just be
healthy by by default. So kind of focus in what he's saying is focusing on the morning and lunch, maybe
before you lose all the steam that you have. And then the dinners will just happen on their own. So I like
that cut yourself some slack. Oh, and he says that how to recommend on keeping it stay flexible. If you
fall off the wagon, it's okay, just get back on. And then upcoming in 2019. Cory is I guess he's going to be
having a new a new website. So that's exciting. And then he is he'll continue to release new recipes
every single week. So those are recipes you can make in 15 minutes or less. And they're all plant based.
And you can find those at Lean Green dad.com. So next on our resolution track here is an LaRue who is
a registered dietitian at Hannaford stores. And she talked to us on episode 10 sharing tips from a grocery
store dietitian. So we asked and what her new year's resolution was for 2019. And she says it's to return
to her passions. So in the past, she has set goals signed up for races and pushed hard to do well. And
although she's enjoyed that approach this year, she wants to get back to the core of why she does these
things. Oh, I love that, and wants to remind herself that I love the process as much as I do the event.
That the day to day training is where the enjoyment lies. Race Day will be what it will be. But the days
that got her there and how strong and healthy she feels is what matters, and then how she intends on
keeping it. To be more mindful in her practice about living in the moment. Specifically, I plan to keep a
gratitude journal, use a meditation app and attend yoga so that I can take the time outs I need to stay
true to the goal. And I think that's something overall we can all probably relate to, whether it be you know,
a race or really anything else is to take a minute to stop and recognize the journey and appreciate the
journey to you know, how you're getting to where you need to go. And then for easy, healthy resolutions
that she recommends for families.
10:05
So she says the easiest health resolution a family can make is one that whole the whole family sees
value in and can have fun doing like that. So if the whole family wants to try to drink more water, make it
an activity that grows start by buying everyone a brand new water bottle that is unique to them. Then
each month have each family member choose a new fruit to put in the water, or have a list of the highest
water content veggies and fruits, like your water. I love this topic and, and make it a goal to include one
throughout the week. And again, find something that sounds appealing, and that you can keep going as
a learning opportunity throughout the year. So that's fun. It's not just Okay, we're gonna drink more water,
you kind of make it, make it out a whole campaign and then in 2019, and is very passionate about the
Spartan Race and the Spartan kids nutrition. So hopefully, in 2019 If you're not familiar with, with the
Spartan programs, we can have an on to talk a little bit about those and see how you might be able to
get involved in those in your community. Okay, next we have Kieran from real easy food.com. We talked
to her in Episode 14 on why grocery shopping with your kids doesn't have to be stressful to awesome
episode if you can go back and listen to that when you have a moment. So Karen doesn't have a New
Year's resolution. She's a believer in working your habits into your lifestyle. So with that being said, a
new year is the perfect time to refocus. I agree fresh start. And my goals and her goals include just that
refocusing refining and trying to minimize so that I can be more effective in areas that I deem important.
Okay, so that's pretty much my resolution as well, hers was just a little more refined. So so if I can get a
redo, I gonna have a resolution the same as Karen. So for a family resolution, and it sounds like this is
something that Karen is already doing in her house and is is suggesting it might be something good for
for other families to do is every Sunday, they take a walk together. And she says it's honestly a few of my
favorite hours each week, it's such a great way to catch up, have fun and really connect and you get
exercise while doing it. Oftentimes, they have a destination, which makes it a little more fun for the kids.
So she says she's even okay, if we go to Starbucks, or sometimes I'll walk to a store and give each of the
kids $2 to spend on whatever. She says if she figures if they're walking two miles each day, it's a small
price to pay. So her suggestion, suggestion is those healthy family walks. And then as for keeping those
resolutions, Karen says if you make this your goal, let your family know that this is your goal, put it on the
calendar, pick your destinations and get your family involved in the decision making process. And for
Karen is finishing an e book, which is really exciting. She has lots of great ideas on her her site. So
she says keep an eye out for ebook and it's going to incorporate great ways to get your kids cooking at
home. Oh, right on to Brenda Thompson, of meal planning magic.com. Brenda talks. Talk to us on the
healthy family project. On episode one. We talked about meal planning for beginners. And also on
Episode Seven. We talked about lunchbox meal prep, definitely go back and listen to both of those if you
haven't listened to those already. Brenda's resolution is to learn three new skills. So she started this last
year and she said it helped her maintain success or focus towards her goals versus just something
generic, like eat more vegetables or exercise more. So she intends to keep her goals by being intentional
and teaching herself how to seek the help of others to learn more. Okay, I really like that. I think that's
something we could all do a little bit more of is looking at the people around you and recognizing how
awesome your tribe is and how much you can learn and how much those people are willing to help you.
And if you're someone like me who doesn't like to ask for help or accept help.
14:30
This might be something good for me to incorporate into my own resolution. But yes, so teaching herself
how to seek the help of others and learn more so for 2019 Her three skills include learning how to make
homemade pasta and ravioli using her grandma's recipe. And then learning how to make fondant to
decorate cakes and learning how to do fun family videos and editing. Those are great. And then her she
just added in that her Last year's goals for I guess, 2018, included fancy sugar cookie baking and
decorating. That is definitely a skill we do that year over year in our house. And I wonder when we're
going to become, we get really better at it. Also learning how to make latte art without all the expensive
machines. And she says she watched a lot of YouTube videos over this past year and ended up taking
some local classes. So those were some ways that that she kept up with her resolutions. And then she
says that a tip for an easy family resolution is to set a goal to eat meals together more often. She says
everyone is busy, especially if you have teens like she does, going in all directions. But setting aside
time, even if it's just once a week is a great way to connect with each other. And she says it doesn't have
to be dinner, and maybe it's breakfast or, you know, a lunch on a less busy day of the week, when you're
all together. And also recognizing that, you know, those days can change week to week, if you're
planning that is your resolution to have that weekly meal together. So she says as my kids grow older,
the time we get to spend together even if it's just 30 minutes for breakfast is invaluable. So for 2019 She
is hoping to add nutritional information to all of the recipes on her website, she does have it for several
on her website meal planning magic.com. But if you are looking for nutritional information, you know,
she's saying that that she'll be adding that to her recipes in the new year. So she's also going to be
starting a small Media Communications and consulting business for local creative and small businesses.
And so she says before first and first and foremost, she needs to get her daughter off to college first. So
stay tuned for more from Brenda. All right. Next up we have George suspend ski from he has his
podcast, the broadcast from the produce style. And he is the host over there. So make sure you you go
and subscribe and learn all about fruits and veggies. And he talked to us on episode 15 about fruit and
veggie trends coming up and shopping hacks. So for 2019 George says he'd like to run more. So he said
he also wanted to run more in 2018. But he had a hard time getting out to run. This year, they had a lot
going on, they had a new baby. So you know, he gets a pass on that on that resolution. But he says they
have a great rolling running stroller so he knows he can make it happen. And he knows that it makes him
feel good in his body and mind. And it's something he loves to do. So maybe you know this resolution will
help him get back on track. And he also adds he'd like to look good for his wife too, which is hilarious. So
a resolution that he says that he has made in the past and kept is that he wanted to try a new fruit and
new vegetable each month. So that's that's pretty cut and dry head to your produce department, pick one
thing each month and have your family kind of check that out. And then he says depending on how
exciting a market you shop at, this could be an easy thing. If there are lots of exotic fruits or a little tough,
tough, but being flexible with the rules helps keep helps you keep the resolution so and then he says
there are new varieties of apples and tomatoes try all the time. Or maybe it's just trying a different salad
mix or the spiralized version of an old favorite. So definitely you can keep this super simple. He says the
real point here is to make the veggie the focus of your shopping and cook so that you're excited about
finding preparing, eating and talking about the star on your plate. So if you're pretty adventurous with
what you eat already, maybe it's about trying a new veggie focused recipe each month. And then he
says, for keeping this resolution. He says he finds a recurring reminder, in his notes app. He has a
Google Keep or calendar as a great tool to keep him on top of his resolution till the very end. So yeah, so
if you're if you're a calendar type person, if that will help you keep your resolution, maybe setting yourself
some friendly reminders or on your Alexa at home. I don't know that I'd want Alexa
19:32
reminding me Amanda, please stop yelling. Please remember your resolution not to yell at your kids.
Alright, so our final resolution comes from Amy Roskelley at super healthy kids.com. And she also has
the Prepare app. And we talked about the Prepare app on episode 11. All about how the app can help
you make your meal planning super easy So she shared lots of amazing tips. And she says her goal for
2019 is to connect with people, humans. It's so easy to be an introvert, I agree when you have an online
business, but I'm going to get into the community to work with more people on their health goals in
person, but also to make real friendships. I love that with social media and computers, and you know,
just it's becomes you know, you really have to just check yourself and pick up the phone and have a
voice conversation with someone it, it's refreshing. So she says she intends to keep this resolution by
attending local events getting out in the community. She says her community is amazing at providing
meetups and opportunities to collaborate and make friends with similar interests. So she's going to start
signing up for those things and get out to to meet some local people. And we'll help them work on health
issues. And then as for what's an easy, healthy resolution for families, she says she thinks the easiest
thing a family can do is talk about, write about and discuss why we choose healthy living connecting to
our Y can lead to real behavior change and help you stick to it. I like that. And then how would you keep
the resolution remind each other why we eat healthy, keep it on top of mind, write a family motto around
it. And she says even print it on vinyl and put it on your wall. Kind of like one of those vision boards that
you're constantly looking at something and so it becomes real. And then for 2019 Amy is excited they
have a new website or she has a new website called Health beat.com. So she says check that out.
Follow her over there for strategies, behaviors, tips, and interviews on how to make healthy changes in
your life and inspire healthy changes for your loved ones and your community. So definitely help
beat.com We'll be checking that out. Well, I have to say that was a great roundup of tips and resolutions
across the board. I think there's some simple things that we've talked about today that families can do
easily, not too much stress and you know, just living your best life and your your healthiest life. And
recognizing that, you know, it's okay, if you get off track. We're we're all not perfect people. And that's all
right. And so, in closing, I guess my final resolution is to connect more with all of you listening today, I
see the downloads and subscriptions. All you know on the back end as I'm uploading these episodes and
so I know you're out there but I'd love to hear from you and talk about what we can do to help you and
your family. What are the topics that that are really going to help you guys live your best life and and
make those healthy choices so you can always tweet me at Amanda M Keefer. The Kiefer is k e fer or
you can email us direct at healthy family project at produce for kids.com We definitely want to hear from
you. And definitely want to make sure we continue to give you know provide the content that that you're
looking for. And we have lots of exciting things coming in 2019 at produce for kids. Be sure to connect
with us on our social media outlets. We are producer kids simple on Facebook, Instagram, Twitter,
YouTube and Pinterest. wishing all of you a safe happy, prosperous and of course healthy 2019 Be sure
to subscribe Talk soon