Easy Weeknight Dinner Shortcuts with Maya Kaimal
Disclosure: This post is sponsored by Maya Kaimal Foods. All opinions are our own.
In between homework, projects, and after-school activities, weeknights are hectic and getting a healthy meal on the table every night can prove to be a challenge. Over the years, I've found a few shortcuts and hacks including pantry staples and meal prep must-haves that save me time and ensure I can whip up nutritious meals for my family in minutes.
We're excited to partner with Maya Kaimal Foods to share some of their new products and dinner shortcuts that are perfect for busy families looking for convenience without sacrificing flavor! Maya Kaimal Foods is a line that brings the vibrancy of traditional Indian flavors into modern culinary experiences. All of the line's products are inspired by Maya's family recipes and help families bring new flavors into their kitchens with ease.
Maya Kaimal's unique products help complete any meal, making them the perfect weeknight dinner hack. There are an endless amount of dishes you can create with their products and they're perfect for introducing your family to wordly flavors.
Hear from award-winning cookbook and founder of Maya Kaimal Foods in episode 39 of the Healthy Family Project Podcast.
Now, onto those easy weeknight dinner shortcuts!
Surekha Rice
Rice that's ready to serve in 90 seconds? Yes, please! Maya Kaimal's line of microwavable Surekha Rice pouches come in two flavors and feature a simple list of ingredients with no artifical additives. The rice is organically grown in small farms in South India and has a delicious, subtle sweet flavor.
Surekha rice has a sturdy texture that perfectly soaks up curries, Everyday Dals, or your favorite saucy main dish. Grab it out of the pantry when you need a super quick side to complete your dinner or add it to your meal prep containers for the week.
Shelf-Stable Indian Sauces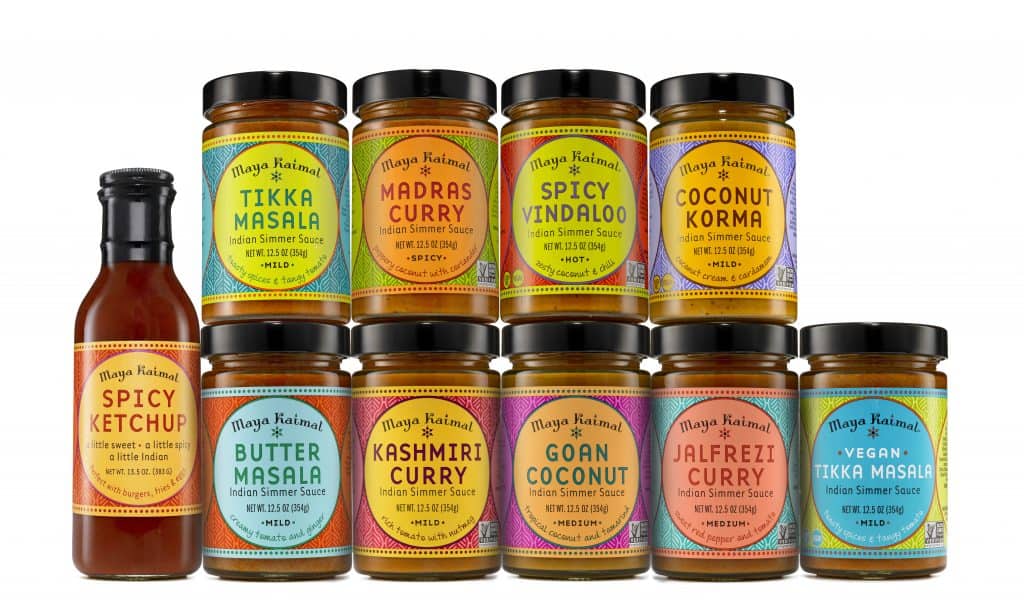 The ultimate pantry staple! Maya Kaimal Indian Simmer Sauces come in 9 unique flavors (7 are vegan!) that can be added to countless meals. They're packaged in glass jars with a two-year shelf life so a satisfying Indian meal can be yours anytime.
Here are just a few ways to use the simmer sauces:
Simmer with meat or vegetables
Use in a slow cooker
Add to soups and stews
Spread on pizza or flatbread
Spoon over noodles
Use as a marinade
Turn leftovers into instant curries
Spice up tacos or quesadillas
Speaking of tacos! I recently tested shrimp tacos with Goan Coconut simmer sauce and they were an absolute success! Out of tortillas? Simmer the shrimp, prepare the mango salsa, and bring it all together in a bowl with Surekha Rice. (Great for meal prep, too!)
Meal Prep Time!
Here's a meal prep idea that never fails me: Simmer chicken or your protein of choice, onions, and peppers in your favorite Maya Kaimal sauce and microwave Surhekha rice pouch. Portion into a meal prep container with a piece of naan and you've got a delicious lunch to get you through the day!
Follow Maya Kaimal on Instagram for Indian recipe inspiration and more unique ways to use their products!
Where to Buy?
Maya Kaimal simmer sauces, Surekha Rice, and Everyday Dals are available in Target, Publix, and other major retailers.
Find a store near you or purchase on Amazon or other online retailers.