3 Ways to Preserve Strawberries for Later + A Visit to Wish Farms
Today's post is sponsored by Wish Farms in celebration of Florida strawberry season. All opinions are our own.
Living in Florida this time of year, we have an influx of Florida-grown strawberries in stores. We're a strawberry-loving family and I always stock up when strawberries are on sale (how can you not when strawberries are as low at $0.98!). While my girls can go through a package of strawberries in about 3 minutes flat, sometimes we stock up a little too much or don't get to them before heading out of town for the weekend.
My go-to is to throw them in the freezer for smoothies, but there are a few other great ways to preserve strawberries for later, including dehydrating strawberries and turning them into jam. We'll share how-tos for our favorite ways below.
A Day at Wish Farms
In celebration of Florida strawberry season, we gathered a few local Florida influencers this past weekend – Nichole of Casa de Crews, Dawn of This Honest Food and Trina of Mommyhood Life – and headed down the Plant City, Florida to visit our friends at Wish Farms.
Our day started in the beautiful strawberry fields at Fancy Farms, a growing partner of Wish Farms, where we learned about the strawberry growing process from seed to fruit, how strawberries are harvested and had the chance to pick a few ourselves.
After the farm, we stopped into the Wish Farms processing facility to see how berries are packed or processed. While strawberries are picked and packed in clamshells right in the field, blueberries are sorted before packaging (check out our post from our last trip to Wish Farms to see the process). At this processing facility, strawberries are pureed for smoothies and other uses, helping to reduce food waste.
At this point, we were ready to eat all the strawberries! We headed over to the annual Florida Strawberry Festival for our fair share of yummy strawberry dishes and even brought home lots of delicious Wish Farms strawberries to enjoy.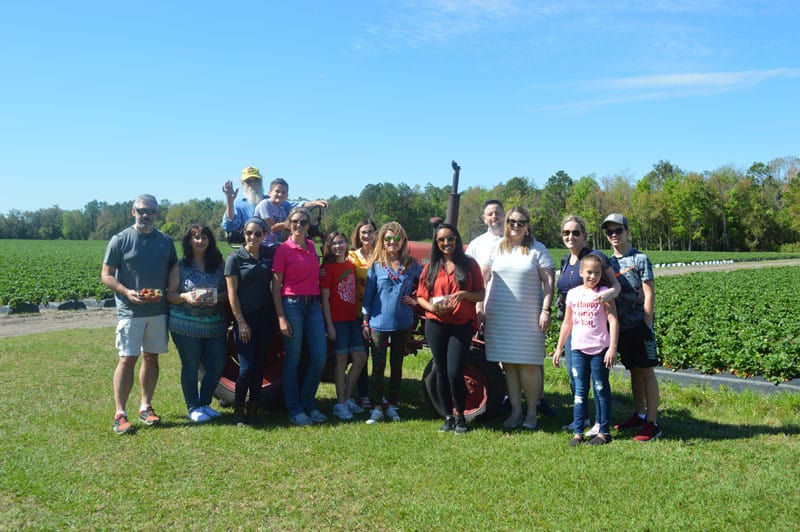 Three Ways to Preserve Strawberries
1. Freezing Strawberries
Frozen strawberries are easy to add to smoothie, oatmeal and more. We always have some in the freezer to quickly add, and it really comes in handy when strawberries are off-season or more expensive.
To freeze strawberries:
Wash and remove the stems.
Pat strawberries dry and lay single layer on baking sheet. Place in freezer and freeze overnight.
Transfer to freezer-safe ziplock bag until ready to use.
Get more tips on WishFarms.com or watch the video below!
---

2. Strawberry Jam
Strawberry jam is my jam! Great for adding to toast, topping waffles or stirring into oatmeal, homemade jam is easy to make and better for you than store-bought versions with tons of added sugar.
Our homemade strawberry jam only needs 4 ingredients – strawberries, maple syrup, chia seeds and vanilla extract! A fresh batch can keep in the fridge for 2 weeks or the freezer for 3 months.
---

3. Dehydrating Strawberries
Turn strawberries into a fun, crispy snack by dehydrating them. You don't need a fancy dehydrator, you can make them in the oven! Check out easy it is:
Preheat oven to 200F.
Thinly slice strawberries and place on a parchment-lined baking sheet.
Bake 2-3 hours, turning halfway through, until crispy. Smaller pieces will cook faster than larger ones, so keep an eye on them the last hour.
You can also turn strawberries into a fun, homemade fruit leather in the oven. Here's our favorite recipe made with strawberries, pineapple and peaches (but almost any fruit would work!)
---
About Wish Farms
Wish Farms is a 3rd generation family-owned and operated grower and marketer of fresh berries. Founded in 1922 in Plant City, FL, Wish Farms grows strawberries, blueberries, blackberries and raspberries year-round. If you live in Florida, check out Wish Farm's schedule of U-Picks to visit one of their farms and fill up on fresh berries.
Sign up to Be A Berry Lover and receive a FREE Original Berry Recipe eBook, plus Misty the Garden Pixie digital children's book. Receive special offers, what's in season updates, featured recipes & more!
---
Make sure to follow @WishFarms on Instagram for fun giveaways and berry inspiration all year!