Ripe for the Picking: Florida Blueberry Season with Wish Farms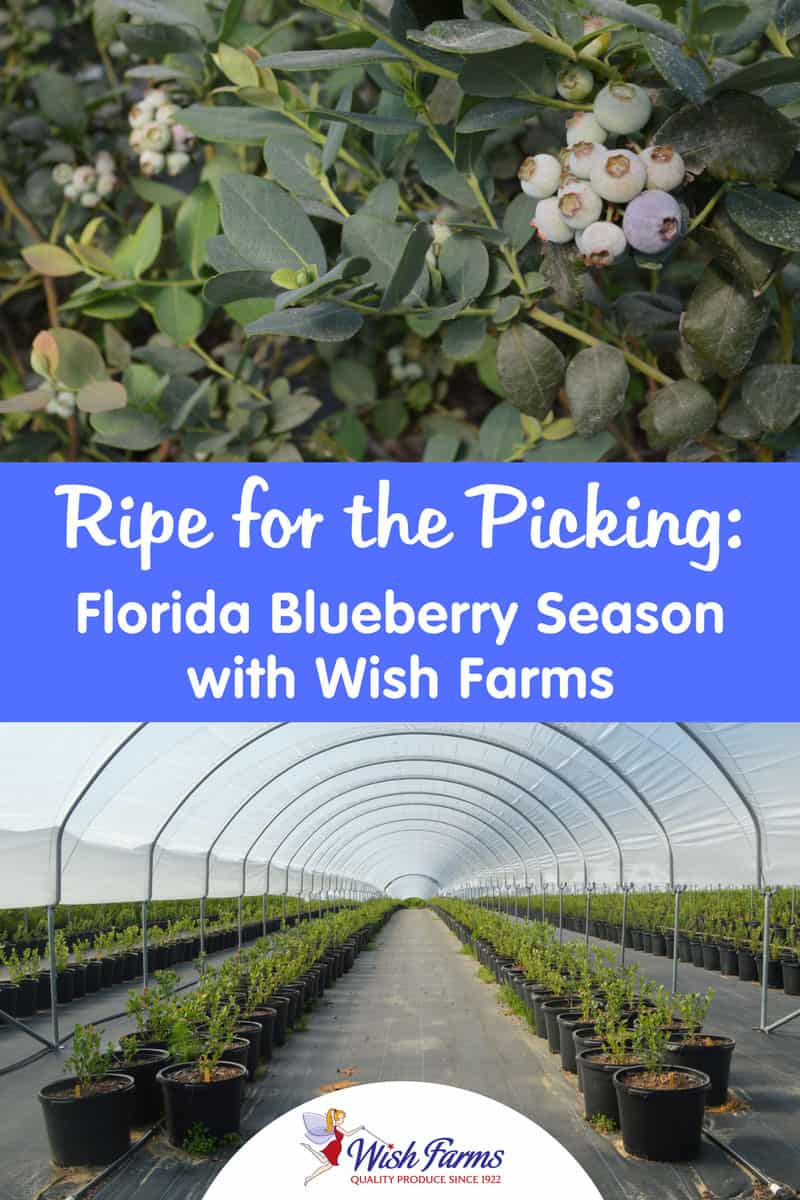 Disclosure: The post is sponsored by Wish Farms. All opinions are our own.
Last week, Grace and I headed down to Plant City to get the scoop on Florida blueberry season and check out the new Misty Organics farm from Wish Farms. We've also partnered with them to give away a berry sweet prize pack, including a $100 Wish Farms Visa gift card and a berry lover's swag bag. Make sure to read through the whole post to see how to enter to win!
Living in Florida, it's rare to not have fresh berries in grocery stores year-round. Since berries are grown throughout the United States and parts of Central and South America, we have a steady stream of fruit hitting stores.
Florida blueberry season is a short window usually lasting about 6 weeks with peak season in mid-to-late April. The season is wedged between blueberry seasons in Chile and Georgia, and Wish Farms is keeping the organic blueberry train rolling with their innovative new farm – Misty Organics.
The Misty Organics farm houses all of its blueberry plants in pots instead of planting them in the ground. The pots are housed in rows under tunnels, creating a greenhouse effect. This sustainable way of growing blueberries uses less water, allows Wish Farms to grow twice as many plants per acre and the tunnels regulate temperatures by helping to raise the temperature during frosts and keep pickers sheltered on rainy days.
Learn more about this innovated new farm in the video below!

After touring through the farm, and tasting a few of the yummy organic blueberries, we headed to the packing facility to see how these berries make it from field to store. An incredible 24,000 pounds of berries are processed through the facility EVERY HOUR!
Here's how:
Blueberries are picked in the field and deposited into large plastic bins. The bins are brought to the packing facility for sorting and packaging. The bins pictured above are full of blueberries waiting to be packaged.
The blueberries are transferred to a sorting machine where leaves, sticks and soft or imperfect berries are sorted out.
After running through the machine, the blueberries go through a final inspection where trained eyes sort out any remaining berries that aren't up to standards.
Now the blueberries are ready to be packed! This machine weighs out the correct amount and places them directly into the clamshell. Check out how quickly clamshells are packed! After this, they slide further down the line where the clamshells are closed and packed into larger boxes for transport.
Be on the lookout for Wish Farms blueberries at your local grocery store, or head to WishFarms.com to find out where you can buy fresh Florida blueberries near you!
Now, who wants to win a berry sweet prize pack? It's simple to enter, just fill out the form below! Want more chances to win? Make sure to check the box to subscribe to Wish Farm's Berry Lovers newsletter to be entered for a chance to win a $100 Wish Farms Amex gift card each week!