Immunity-Boosting Citrus Grazing Board
This citrus grazing board is packed with delicious flavors like sweet Cara Cara oranges, vibrant blood oranges, dark chocolate, feta cheese and more. Citrus is also full in immunity-boosting properties to keep the sniffles at bay.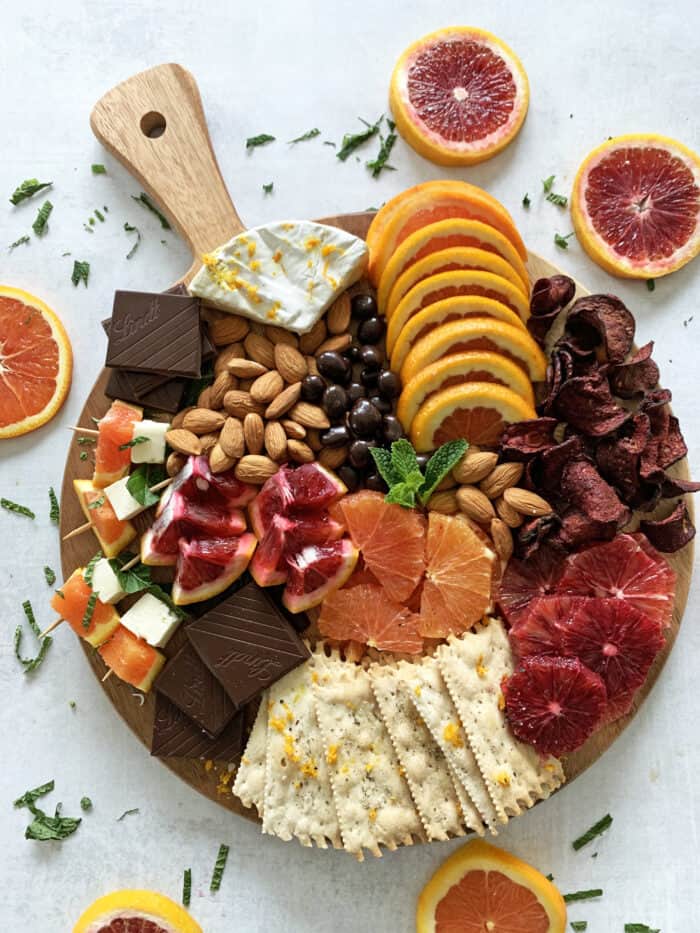 Disclosure: This post is sponsored by the Bee Sweet Citrus. All opinions are our own.
Citrus season is in full swing and there's no better way to take advantage of the delicious specialty varieties available this time of year than by assembling a gorgeous snack board.
I mean, can we just stop and look at those colors? *swoon*
You're probably very familiar with mandarins, clementines, and navel oranges, but have you tried specialty varieties like Cara Cara or blood oranges?
Let's dive into these two amazing varieties.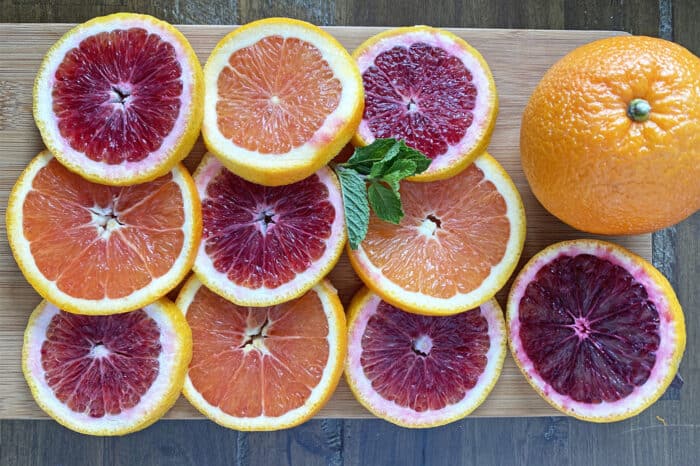 What is a Cara Cara Orange?
Often referred to as the "Pink Navel," Cara Caras are popular amongst foodies everywhere! Its beautiful pink flesh and sweet flavor make it a great addition to salads, or as a stand-alone snack.
Health Benefits of Cara Cara Oranges:
Contains 20% more vitamin C and 30% more vitamin A than regular navel oranges.
Cara Caras also contain lycopene, an antioxidant that with regular consumption has been linked to a lower risk of heart disease.
Excellent source of soluble fiber.
Great source of potassium, which has been shown to promote heart health.
What is a blood orange?
Popular for their deep red-orange interior and berry-like flavor, blood oranges are easily spotted with their blushed rind. Commonly used for desserts and cocktails, blood oranges are sought out by many while in season!
Health Benefits of blood oranges:
Excellent source of folic acid (also known as vitamin B9), which has been known to aid red blood cell formation
The vibrant color comes from anthocyanins, a powerful antioxidant known to lower blood pressure and cholesterol levels and aid one's skin by protecting against UV damage.
Packed with vitamin C which promotes the production of white blood cells that are responsible for fighting infections.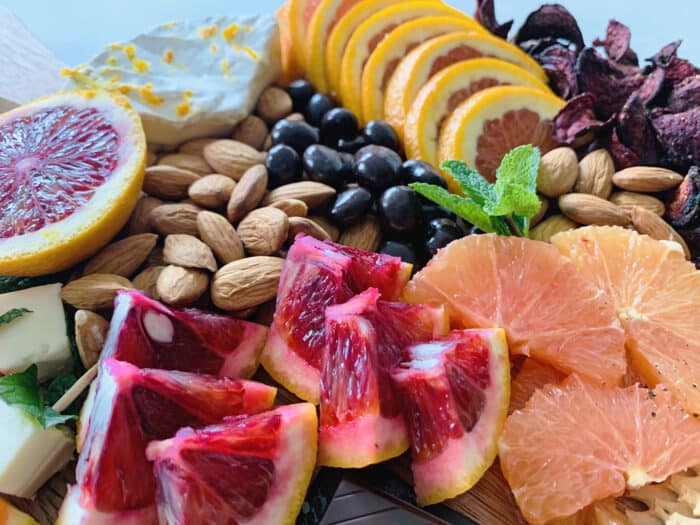 Specialty citrus is the star of this vitamin-C-packed grazing board, and paired alongside complementary flavors like dark chocolate, feta cheese and fresh mint.
With their high levels of vitamin C, eating fresh citrus every day is a great way to boost your immune system and fight off colds and infections. Pair with some of these other immune-boosting foods when you feel that cold coming on for an extra boost!
Not sure how to pick the best citrus of the bunch? Follow these tips to pick the perfect blood oranges and Cara Caras and how to store them to ensure they stay fresh for weeks.
Citrus Flavor Pairings
Cara Caras are seedless and have a sweet, bright taste. Compared to navel oranges, Cara Caras are sweeter and less acidic. This makes them perfect for kiddos with picky palates. Serve as a standalone snack, add to smoothies, use to top salads, or in desserts.
Blood oranges are the perfect mix of sweet and tart. Their unique color and bold flavor shine through when used in cocktails, salad dressings, over a bed of greens, and in many desserts.
Low-Acid Fruit: apricots, strawberries, mango, apples, melon
Fennel
Chocolate
Almonds or Hazelnuts
Herbs: thyme, basil or mint
Goat Cheese
To learn more about Bee Sweet Citrus, their specialty citrus varieties like Cara Caras and blood oranges, and for more tasty recipes, follow them on Facebook, Instagram, Pinterest or Twitter.
Immunity-Boosting Citrus Grazing Board
This citrus grazing board is packed with delicious flavors like Cara Cara oranges, blood oranges, dark chocolate and feta cheese.
Ingredients
2 Bee Sweet Ctirus® Cara Cara oranges sliced
1 oz. feta cheese cubed
2 Bee Sweet Ctirus® Blood oranges sliced
1 wedge Brie cheese
1 dark chocolate bar broken into squares
1 oz. beet chips
8-10 crackers
1/4 cup almonds
1/4 cup chocolate-covered espresso beans
Fresh mint for garnishing
Instructions
Cut one slice of Cara Cara orange into wedges and skewer with feta cheese on toothpicks. Place on board.

Assemble remaining ingredients on board.

Sprinkle with fresh mint and/or orange zest for added color, flavor and flair.