Food Rx: What You Need to Know About Celiac Disease and Gluten-Free Diets
Produce for Kids is teaming up with Julie Harrington, registered dietitian and culinary nutrition chef in a monthly series focusing on the important role food plays in overall health, plus sharing tips and ideas to add more fresh produce to your family's diet.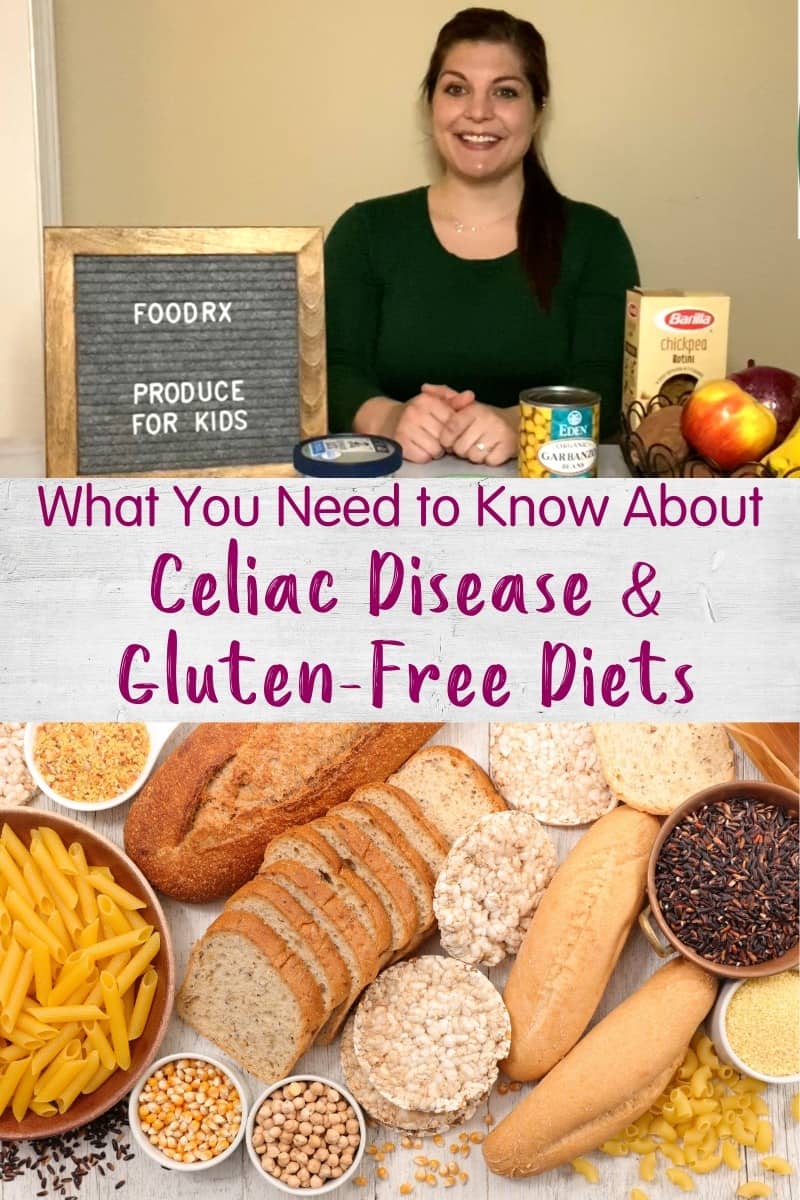 May is Celiac Awareness Month and in this episode of Food Rx we're diving into what celiac disease is, the difference between a gluten intolerance and a gluten sensitivity, and gluten-free foods.
There are lots of misconceptions around Celiac disease and gluten-free diets so we're hoping to clear things up and answer your questions. If you're looking for more resources, the Celiac Disease Foundation is a great resource.
What is Celiac disease?
Celiac disease is an autoimmune disease, where the ingestion of gluten leads to damage in the small intestine. Approximately 1 in 141 individuals in the United States are diagnosed with celiac disease, which damages the lining of the small intestine and prevents it from absorbing parts of food that are important for health. The damage is due to a reaction from eating gluten.
What are the symptoms of Celiac disease?
Symptoms of celiac disease include:
Anemia
Anxiety
Bloating or gas
Constipation
Delayed growth in children
Depression
Diarrhea
Discolored teeth
Fatigue/tiredness
Headaches or migraines
Infertility
Irritability
Itchy skin rash (dermatitis herpetiformis)
Joint pain
Liver disease
Pale mouth sores
Poor weight gain
Thin bones
Tingling/numbness
What is the treatment for Celiac disease?
Celiac disease is treated by following a gluten-free diet. Avoiding gluten-free foods can be challenging. Carefully studying food labels can help identify gluten-containing foods and products.
Gluten Intolerance vs. Gluten Sensitivity
Gluten intolerance affects those diagnosed with Celiac disease. Those with gluten intolerance present with signs and symptoms, including malabsorption.
Gluten sensitivity is described as individuals who cannot tolerate gluten and experience symptoms similar to those with Celiac disease yet lack the same antibodies and intestinal damage as seen in celiac disease.
What is gluten?
Gluten is the protein found in wheat. Gluten helps foods maintain their shape, acting as a glue that holds food together. Gluten can be found in many types of foods, even ones that would not be expected.
A majority of people can tolerate eating gluten. However, those with celiac disease or gluten sensitivity should avoid it.
Remember the acronym BROW – Barley, Rye, Oats and Wheat are the main sources of gluten.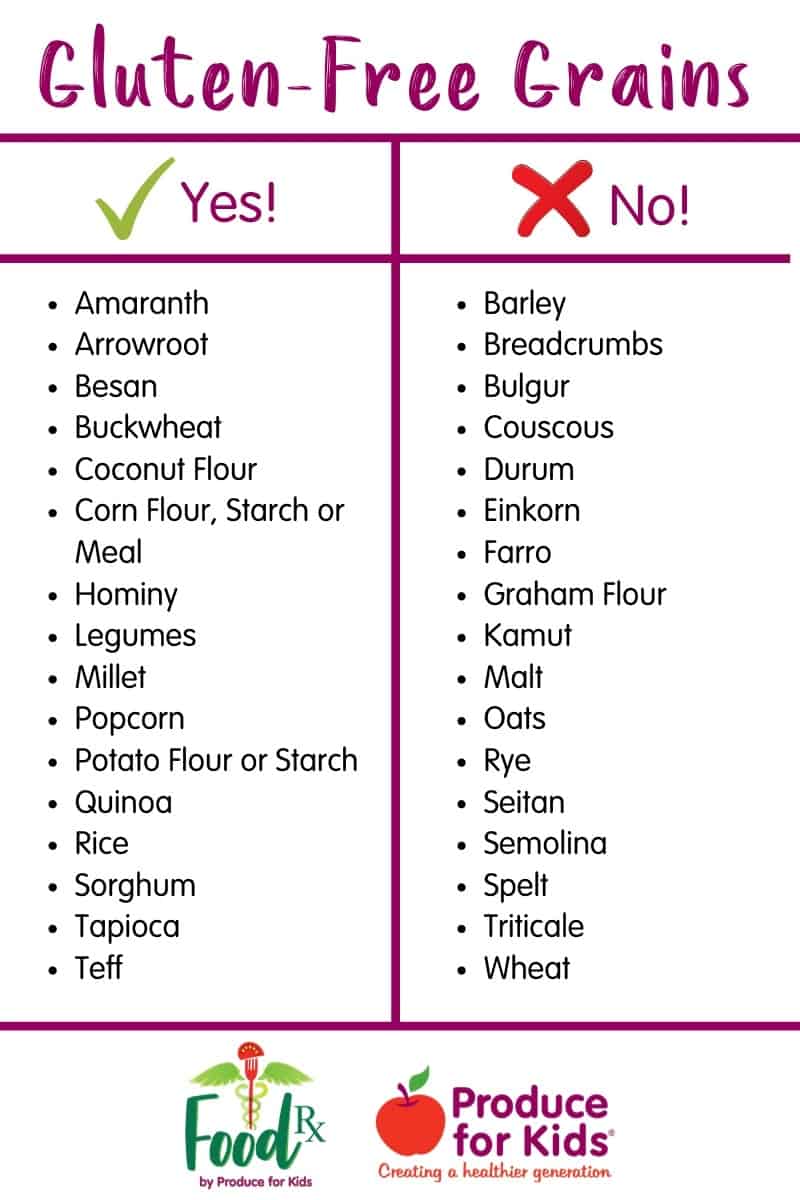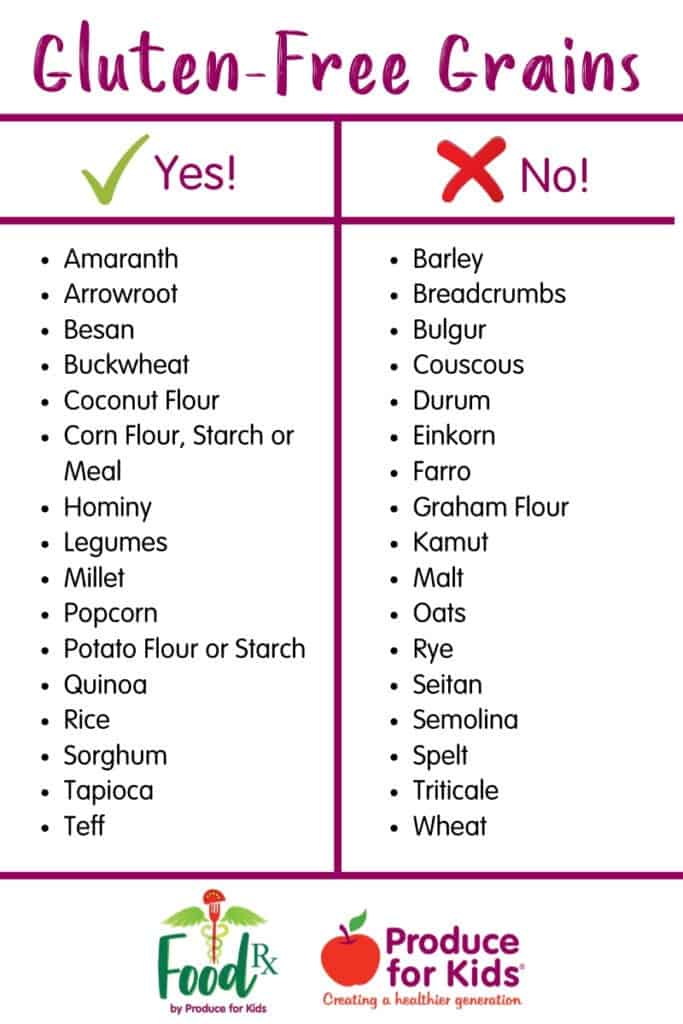 What foods are naturally gluten-free?
There are plenty of foods that are naturally gluten-free like fruits, vegetables, dairy, and protein. There are even naturally gluten-free grains like quinoa. Here's a cheat-sheet of other gluten-free grains:
But there are many food items that may contain gluten, often in hidden or unexpected ways. Always read the label of any food product you buy if "gluten-free" is not specified on the label. If there is not a "gluten-free" label on the product packaging, read the ingredients label thoroughly. Check for hidden ingredients or if it was manufactured in a facility that also manufactures gluten.
What are some common gluten-free swaps?
Soy sauce contains wheat gluten. Rather opt for a gluten-free tamari or liquid aminos.
Swap in gluten-free flour for regular all-purpose white or whole wheat flour. There are gluten-free flour blends that you can swap a 1:1 ratio within your recipe.
Don't ditch spaghetti night. Utilize zucchini noodles or a gluten-free pasta alternative. There are many varieties of gluten-free pasta utilizing bases like chickpeas, quinoa, and brown rice.
Create your own spice blends vs. prepared spice blends. Pre-packaged mixes for gravy, stir-frys, sauces, and even bouillon cubes usually have some form of gluten as fillers or thickeners.
Disclaimer: Before making any health or diet changes, please consult your doctor. The information shared as part of Food Rx is meant to be informative but not replace medical advice from your doctor.