Food Rx: An Apple A Day Keeps The Doctor Away
Welcome to Food Rx with Jessica DeLuise, PA-C, CCMS, a physician assistant and culinary medicine specialist! This monthly series will focus on the important role food plays in our overall health, plus we'll be sharing kid-friendly recipes to add more fresh produce to your family's diet.
Today's Food Rx is brought to you by Autumn Glory Apples.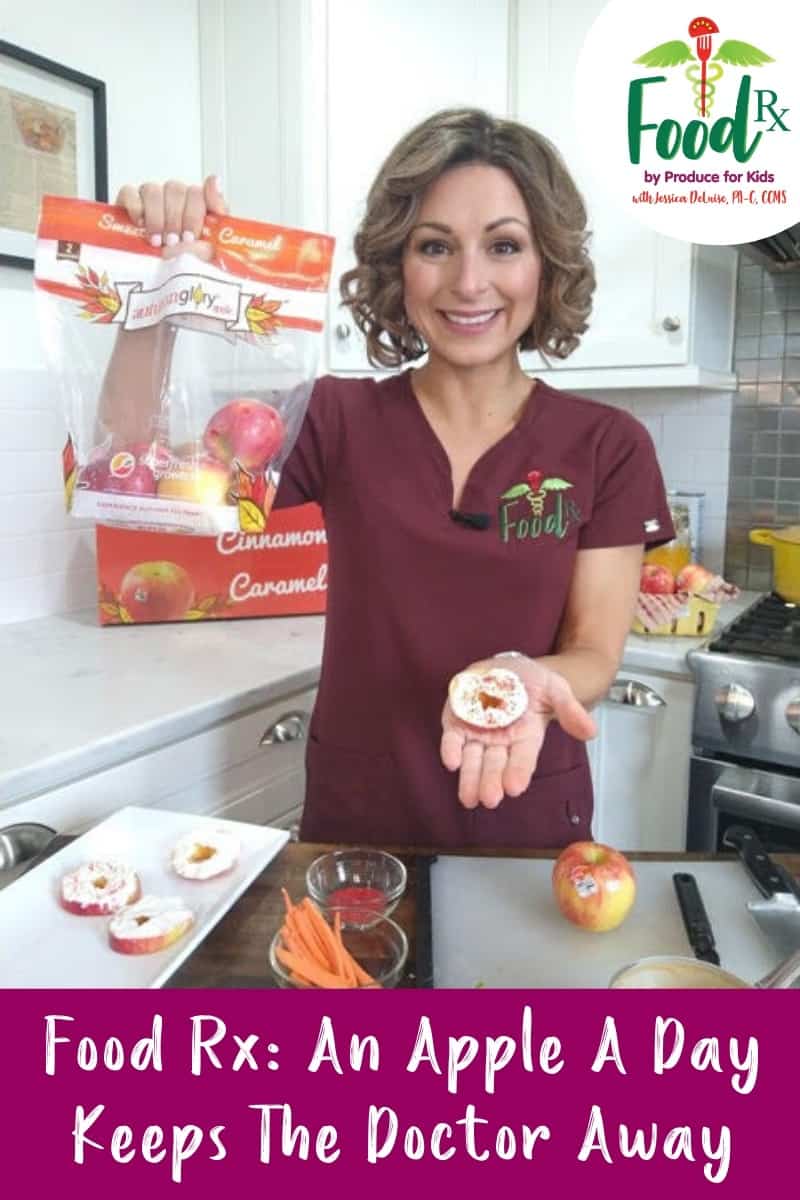 The Rx
If you've heard the quote, "An apple a day keeps the doctor away", you have probably wondered if there is any truth to it? Can apples really support wellness? The answer is YES. 
Fun Facts About Apples:
Apples are part of the rose family, just like plums and pears. A fun fact in case you are ever on Jeopardy!
The second most popular fruit in the USA is the apple, behind bananas.
Apples produce ethylene gas that accelerates the ripening of other produce. TIP: Place unripe avocados, tomatoes, and more in a brown paper bag with one apple to ripen faster.
10 – 12 billion apples are harvested in Washington State each year.
Every Autumn Glory Apple,  and apple is grown in Washington, is picked by hand. This maintains quality and protects apples from bruising.
If you put all the Washington State apples picked in a year side-by-side, they would circle the earth 29 times.
Last year, the average U.S. consumer ate 19 pounds of fresh apples.
The largest agricultural product grown in Washington State is the apple.
Did You Know? 
Want brighter teeth? Apples can help! While not a substitute for toothpaste, the acid in apples actually helps brighten teeth. The crunchy inside can even act like a mini toothbrush scrubbing away stains. 
Apple skin is one of the healthiest parts of the apple! Most of the apple's flavonoids, polyphenols and antioxidants are found there.
The USDA suggests washing apples with warm running water. 
Quercetin is an antioxidant found in apples that have been shown to prevent age-related neuron loss.
A study of people consuming apples over 28 years noted those who ate the most apples had a lower risk of thrombotic stroke.
Snacking on raw apples can help lower LDL cholesterol. 
Swapping your fruit juice with whole fruit means a lower risk of developing Type 2 Diabetes.
Antioxidants are plentiful in apples and are known for preventing cancer by reducing oxidative stress. 
Apples contain compounds that promote gut bacteria, which promotes gut health. 
Apple Lady Bugs
Ingredients:
1 Autumn Glory apple, sliced into 1/4-inch thick rounds
1 Tbsp. nut or seed butter
3 thin celery slices, about 1 inch in length (peppers or carrots work, too)
Raisins, pine nuts, or walnuts
Directions:
Spread nut butter on apple slices.
Add celery in a 'y' shape down the center of the apple. The antenna should hang off the top side of the apple.
Top with raisins or walnuts for spots.
For a "butterfly" version, add a variety of toppings in all shapes!

Apple Donuts
Ingredients:
1 Autumn Glory apple, cored and sliced widthwise
1/4 cup yogurt
Your favorite toppings like coconut flakes, raisins, nuts or sprinkles
Directions:
Spread apple slices with yogurt.
Top with your favorite toppings.
Candied Sweet Potatoes
Ingredients:
3 medium sweet potatoes, peeled, cubed
2 Autumn Glory apples, peeled, cubed
2 Tbsp. avocado oil
2 tsp. dried sage
1/2 tsp. pink salt
Option toppings: 1/2 cup chopped pecans and 1/4 cup raisins
Directions:
Preheat oven to 375F. Spray 8×8-inch baking dish with nonstick cooking spray. Set aside.
Mix sweet potatoes, apples, oil, sage and salt in large bowl. 
Pour into baking dish and add 1/2 cup water. Cover with foil and bake 30-35 minutes.
Remove from oven, uncover and top with pecans and raisins, if desired.
Cook additional 10-12 minutes, or until potatoes are fork tender and apples are bubbling.
Get more apple recipe inspiration from Autumn Glory Apples including these super tasty Apple Sugar Cookies!
Disclaimer: Before making any health or diet changes, please consult your doctor. The information shared as part of Food Rx is meant to be informative but not replace medical advice from your doctor.