Eat, Drink & Be Berry with Wish Farms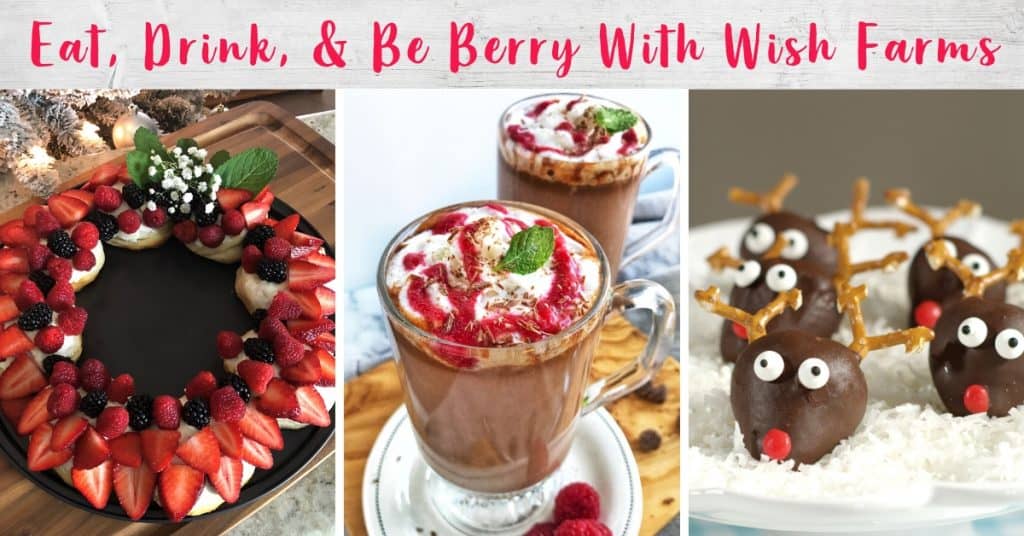 Note: The post is sponsored by Wish Farms. All opinions are our own.
I love the holiday season. And for the first time this year I'll be celebrating as a mom. This holiday season we're teaming up with our friends at Wish Farms for the eat, drink, and be berry promotion to inspire your family with merry & berry holiday recipes. These are perfect to enjoy whether you're having a Christmas gathering or staying in with the family and looking to prepare some extra fun treats.
There's something about holiday traditions and time spent with family, that make them a magical time. I'm one of those people who get excited whenever I see holiday decorations in the stores even if there are still several holidays between now and then. If you ask my husband, I have way too many holiday decorations. It's a wonder that anything else can fit in the attic with all the storage containers!
I love the traditions of the holiday season. Christmas lights, decorating cookies, Christmas music on the radio, adding all the trimmings to the tree, and yes even wrapping presents. It's the traditions of the holiday season that really bring a family together. Whether watching your favorite holiday movie, making your favorite holiday treat, or dressing up in matching PJs, Time spent together during the holiday season is pricesless.
Eat – Christmas Berry Wreath
Add an extra festive touch to your Christmas brunch with this berry wreath! Wish Farms strawberries, blackberries, and raspberries are beautifully arranged on freshly made biscuits for a dish that's almost too pretty to eat. 
Ingredients
Fresh Wish Farms Strawberries sliced
Fresh Wish Farms blackberries
Fresh Wish Farms raspberries
1 package of ready made flaky biscuits
1 (8 oz) package cream cheese, softened
fresh mint for wreath garnish
Grab the full recipe!
Drink – Slow Cooker Hot Chocolate with Raspberry Mint Drizzle
Nothing beats curling up on the couch with a warm drink while you watch holiday movies with the family! This Slow Cooker Hot Chocolate is super easy to make and will feel like an extra special treat on cold winter days. Fresh Wish Farms raspberries mix into the hot chocolate with each sip, making this recipe one you will remember.
Ingredients
14 ounces sweetened condensed milk
1 cup high-quality semi-sweet chocolate chips
4-8 cups water, plus 3 tablespoons.
1/2 cup fresh Wish Farms raspberries, mashed with fork + more for garnish
5-10 leaves fresh mint
Be Berry – Dipped Strawberry Rudolph
And finally, it wouldn't be Christmas without a little dessert! Strawberries and chocolate already go hand in and hand. All you need is a few extra touches to turn chocolate covered strawberries into these adorable rudolph treats. Your kids will love making these! Make sure to double your batch as these are sure to be gone in no time. 
Here's what you'll need:
Fresh Wish Farms strawberries, washed and dried completely
Dark Chocolate Candy Wafers (12 oz. makes 14 to 16 treats)
Mini pretzel twists
Candy Eyeballs
Red Hots
Paring Knife
Microwave-safe bowl
Candy Dipping Set (spoon used)
Waxed or parchment paper
Cookie sheet
12 in. Disposable Decorating Bags
Food-safe scissors
Get the full recipe from Wish Farms.
About Wish Farms
Wish Farms is a 3rd generation family-owned and operated grower and marketer of fresh berries. Founded in 1922 in Plant City, FL, Wish Farms grows strawberries, blueberries, blackberries and raspberries year-round. If you live in Florida, check out Wish Farm's schedule of U-Picks to visit one of their farms and fill up on fresh berries. Florida strawberry U-Picks begin late February and run through March.