Food Rx: Creating a Balanced Family Meal
We're teaming up with Julie Harrington, registered dietitian and culinary nutrition chef in a monthly series focusing on the important role food plays in overall health.
September is Family Meals Month. September is a perfect time to focus on this initiative as many families are getting back to their busy school and activity routines.
Whether your kids are going back to school in person or virtually, the same concept still applies – sharing a meal together as a family. This gives families the opportunity to connect with each other and develop healthy eating habits.
The FMI Foundation has researched the positive benefits of sharing family meals. In this study, the two notable findings within the research found that:
Family meals improve fruit and vegetable consumption – overwhelmingly, studies showed a positive relationship between family meal frequency and fruit and vegetable intake when examined separately, but also when fruit and vegetable intake were combined.

Family meals improve family functioning – nearly all the studies included in the systematic review and meta-analysis demonstrated a positive relationship between family meal frequency and measures of family functioning. Family functioning is defined as family connectedness, communication, expressiveness, and problem-solving.
Not all families are eating the same way, same time, or even same meals. If you have the ability to all sit around the table and share a meal together, great!
If not, create ways that you can still share a meal together. Shuffling your kids to different activities? Pack a dinner and share a picnic after soccer practice or find a bench to share a meal before dance class.
What does a balanced plate look like?
The typical American diet, the meat is the star of the main meal. Let's flip the script and let fruits and vegetables take the lead in creating a balanced plate.
A basic balance plate (like the one below) looks like half the plate focused on fruits and vegetables, a quarter of the plate starchy vegetables or grains (preferably whole grains), and a quarter of the plate protein.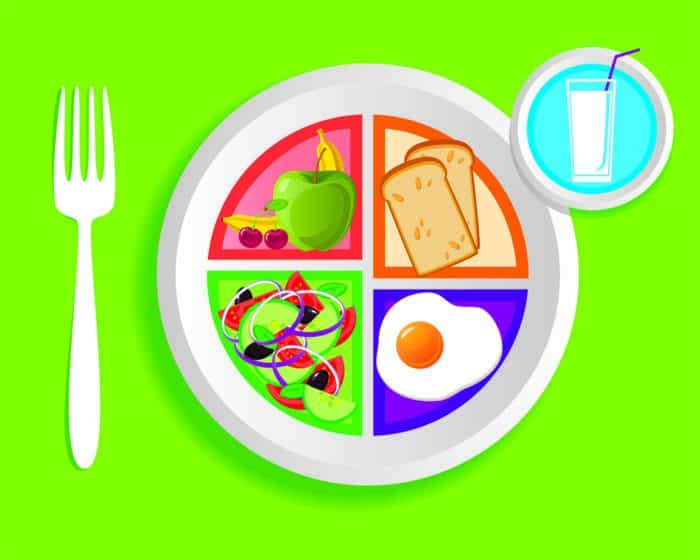 When building these balanced plates, don't feel pressure to make everything from scratch. It's okay to rely on frozen vegetables, pre-cooked grains, or a rotisserie chicken.
We are all pressed for time, so if you can find time-saving shortcuts, utilize them. The main goal is to create a balanced plate.
Also, it's best not to try to overhaul the dinner menu to something that is completely new to them. Instead, use lateral shifts to foods and meals they are used to and begin creating those meals into more of a balanced plate.
Pasta Night
Mac & Cheese
Burger & Fries
What are the appropriate portion sizes of different foods for kids?
The chart below, based on information from the Academy of Nutrition and Dietetics and the American Association of Pediatrics, describes appropriate serving sizes and daily needs of food groups for children.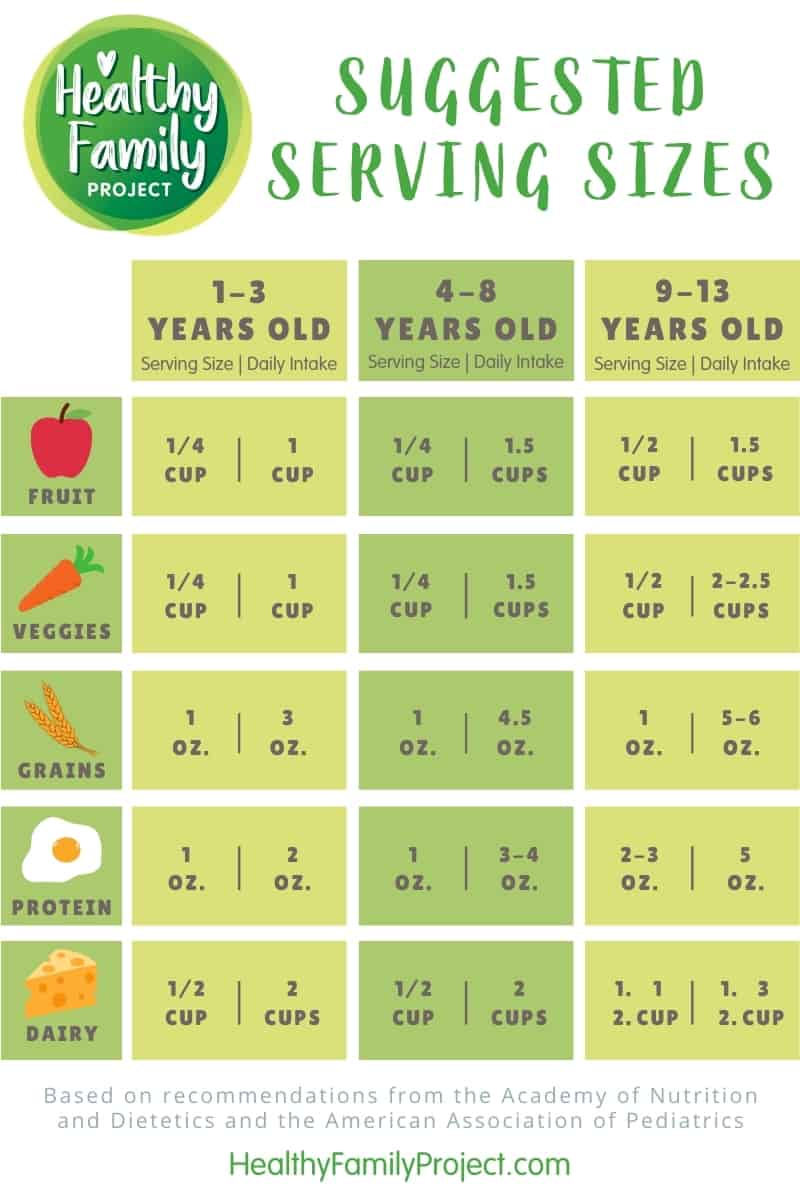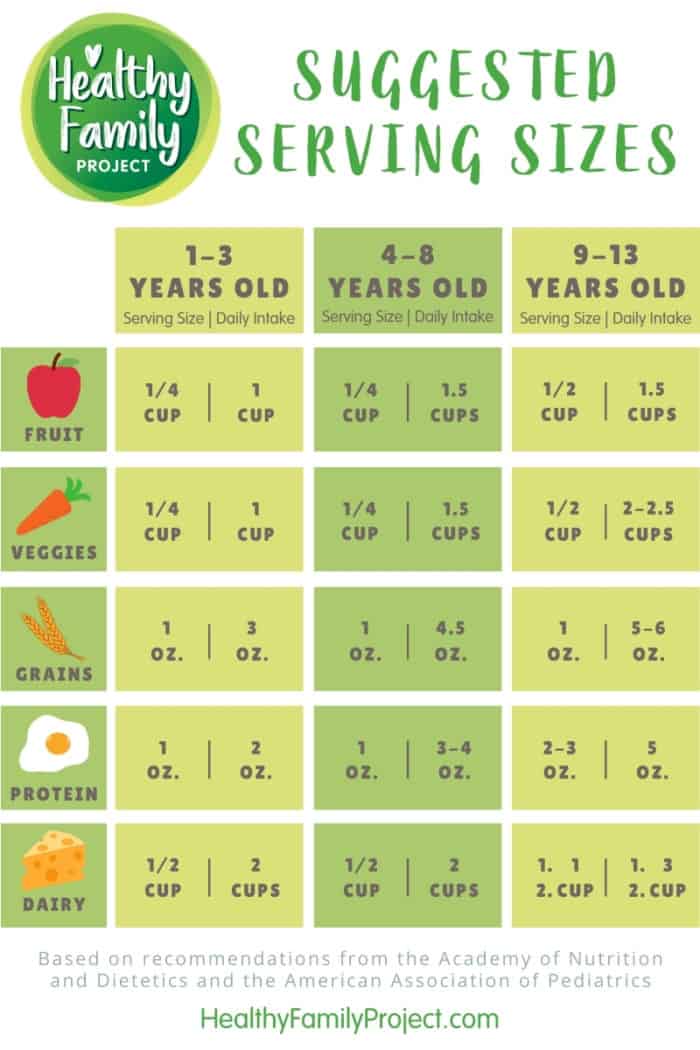 While these serving size recommendations are great, we don't expect (or even want!) parents and children to measure every single food. Instead, become familiar with helpful portion size guesstimating tool – your hands!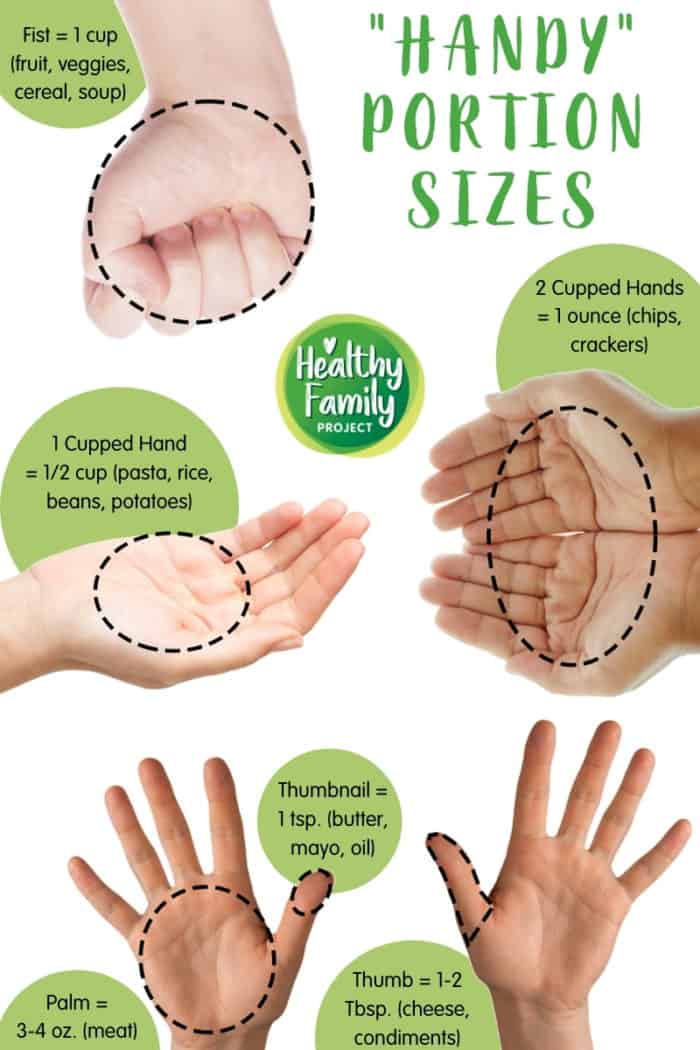 Download and print out these handy guides to hang your refrigerator for easy reference.
Looking for easy mealtime ideas? Here are some helpful posts:
Disclaimer: Before making any health or diet changes, please consult your doctor. The information shared as part of Food Rx is meant to be informative but not replace medical advice from your doctor.